Strawberry Cheesecake Kit Kat, anyone? Or would you like a swig of grape-flavoured Fanta? Or perhaps you're the adventurous type that goes for Wasabi Doritos?

Whatever your tastes be, Japan has got you covered. It boasts of a formidable variety of snacks — from popular ones like everybody's favourite Pocky to the weirdest kinds like curry-flavoured ice-cream (yeah, it is a real thing).
However, unlike your regular Japanese snack blog, this one is not about the many Kit Kat flavours. Today's a special piece dedicated to our Indian readers. We've compiled a list of some Japanese snacks that are sure to tickle your desi taste buds!
(Our non-Indian friends must also keep reading! There is some oishii stuff down there ) Without further ado, minnasan, let's dig in!
Senbei


DryPot, CC BY-SA 3.0, via Wikimedia Commons
Right off the bat is the traditional Japanese rice cracker, called senbei. Don't let its "traditional" tag or humble appearance fool you. This snack made of white rice is highly addictive. It's crunchy, savoury, and so light-weight that you wouldn't even realise how many you would've eaten. Now before you think it's a dangerous snack to have (I mean, that it surely is; it's difficult to not overindulge), it is not fried — it is either baked or grilled so you needn't worry about the calorie count or the fat content. A perfect replacement for the oily mathi, right?
Although plain senbei tastes amazing, there are also a plethora of flavours like soy sauce, red pepper, and sesame, as well as some sweet varieties.
These rice crackers are omnipresent — you can spot them not only in traditional shops but also in every convenience store and supermarket. And those who aren't in Japan can easily find them at any Japanese food store/website. The best part, they are quite economical!
Senbei is a fantastic snack to enjoy with tea (like the Japanese do), or to munch at midnight (just be careful with the noise!) or really, at any time of the day. I challenge you to stop at just one.
Karinto


CC Image courtesy of Hiroshi Yoshinaga "かりんとう karinto (parallel 3D)" on Flickr
This one is a sweet little guilty pleasure. Another traditional snack, these cylindrical sweets taste similar to the Indian shakkarpara. I, too, was surprised to find a familiar taste on the streets of Japan.
Karinto are made from a yeasted dough that is shaped into sticks and then covered in brown sugar. They also come in different flavours such as honey, sesame, and chocolate. You can nibble on them to satiate your sweet cravings or even eat them for dessert! They are even available at convenience stores like FamilyMart so you don't have to go on an arduous quest to find them.
Strangely though, for some reason, a lot of non-Japanese are unaware of its existence but I certainly recommend trying this traditional sweet snack whenever you can! While the taste might be quite familiar, there is definitely something unique and tempting about them.
Umaibou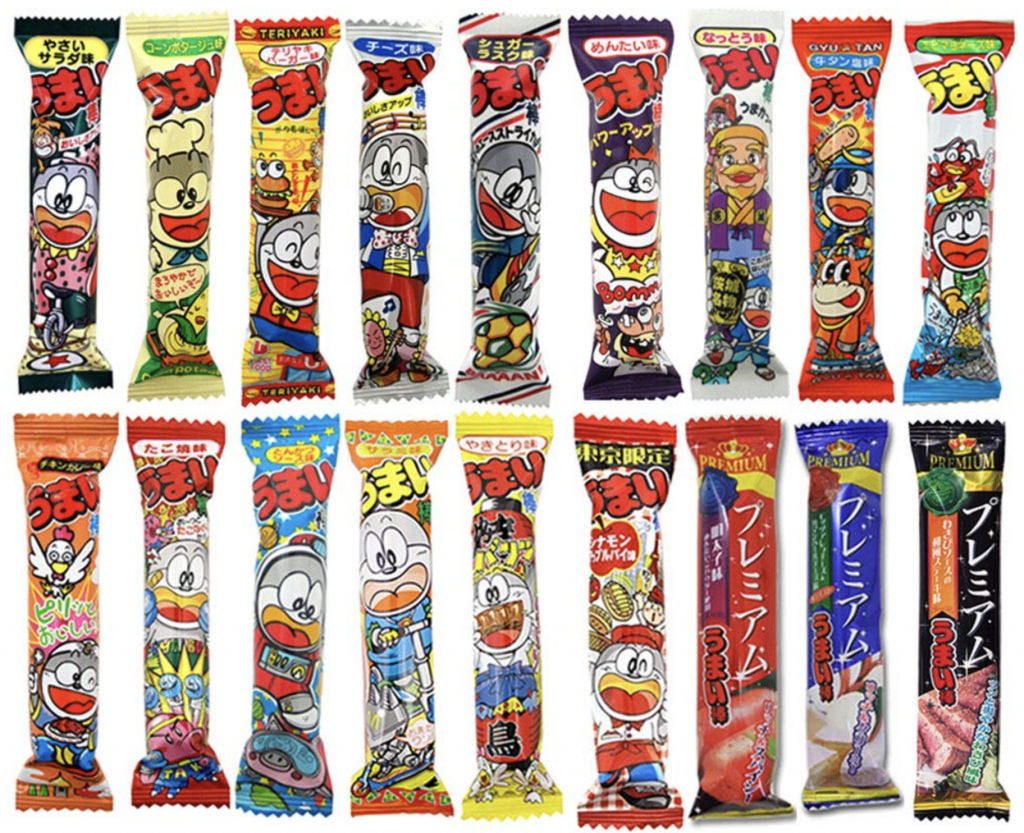 Literally, "delicious stick", umaibou stays true to its name. It is a lesser-known yet iconic Japanese snack — one that reminds everyone about their childhood. You can usually spot kids holding an umaibou stick or two in the supermarket. Adults (like me) are guilty of eating them too, but who can resist these crunchy, light, and addictive snacks? Not to mention the fact that each umaibou costs a mere 10 yen. (No, I am absolutely not kidding. That's the perfect reason to shove down a bunch of them in the shopping cart. EVERY TIME.)
Each umaibou is basically a puffed air cylinder made of corn and seasoned with flavouring. They're easily recognisable due to the colourful packaging and mascot cat named "Umaemon". It is inspired by (you guessed it!) Doraemon, which aired the same year that umaibo was launched.
While it is quite similar to Cheetos or Fun Flips, each umaibou has only around 25-50 calories so although it's not exactly healthy, it's a decent alternative over other packaged snacks.
The best part is perhaps that this simple corn snack is extremely versatile — there are tonnes of different flavours from chicken curry to teriyaki to even chocolate! There are many long-running flavours (which have withstood the test of time), regional flavours, as well as limited-edition ones. There are regular flavours, traditional flavours, and plenty of experimental ones. Given the ever-changing immense variety, one thing is for sure. You'd certainly find at least one umaibou that you'd love!
Kaki no Tane


Nesnad, CC BY 3.0, via Wikimedia Commons
Another type of rice cracker to make the list (albeit in a smaller size), kaki no tane is a widely popular snack in Japan. These crescent-shaped rice crackers derive their name from the similarity to the seeds ("tane" in Japanese) of persimmon ("kaki" in Japanese). They are commonly paired with beer and are a popular bar snack. Indeed, it is hard to resist the soy-sauce coated crunchy kaki no tane, regardless of whether you're drunk or not.
And while these rice crackers are extremely crispy, savoury, and irresistible in themselves, combining them with peanuts is a paradise on a plate. The mixture of these small rice crackers and peanuts is also called kakipi (pi stands for peanuts or "piinatsu" in Japanese). (There was even a Japanese National Referendum which designated the best ratio of Kaki No Tane to peanuts as 6 : 4!).
The combo of rice crackers and peanuts is truly a match made in heaven. Trust me when I say, kakipi are universally guaranteed to trigger non-stop munching. No wonder it is so loved by the Japanese. As a daytime refreshment or a midnight snack, paired with drinks or eaten alone — this addictive snack suits every occasion at any time of the day. Like senbei, you can find kakipi everywhere — even at 100-yen stores! It's affordability and availability (even outside Japan) is a great plus point.
Not to mention, its relatively high protein content (courtesy the peanuts) is indeed the icing on the cake! And akin to senbei, kaki no tane are baked/roasted, not fried.
High on taste, high on crunch, and high on protein, it is indeed high time that kakipi is crowned the #1 snack.
Now before you inwardly curse me for tantalizing your taste buds mercilessly, I have some delicious news for our Indian friends. Eating kakipi is much much easier than you'd imagine.
A joint venture of a leading Japanese rice cracker company (Kameda Seika) with LT Foods (the owner of the popular Basmati rice brand "Daawat") launched the kaki no tane in the Indian market in early 2020.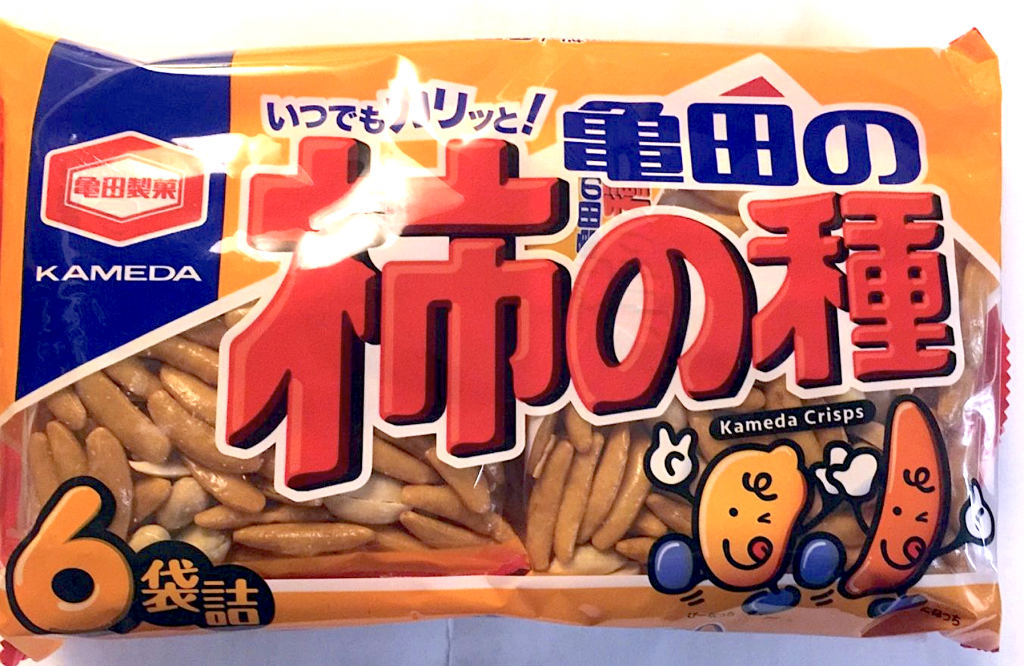 "Kari Kari", as the snack is named, tastes just like the regular Japanese kakipi, complete with the peanuts and soy-sauce coating. It is currently being rolled out in 4 different flavours — "salt pepper", "chilli garlic", "mania spicy", and, of course, "wasabi". My favourite might be "chilli garlic" although you can try all four, given their affordable pricing. One packet costs similar to other snacks in the market and given the fact that Kari Kari are non-fried and pack some protein, without compromising on the taste, makes them a clear winner. (And, no, this is not any paid promotion, the author sincerely wishes well for the readers' happiness, health, and pocket). You might also find some deals on Amazon, Flipkart, and other e-commerce sites.



Image Courtesy: Kari Kari Facebook
Bonus!
Ramune : The Japanese "Goli Soda"
Yes, you read that right! The popular roadside desi drink has a Japanese variant, which goes by the name Ramune. It is as much the symbol of summertime in Japan, as much as Banta is the beloved thirst-quencher in India. With the same refreshing lime-lemon flavour packed in the Codd-neck glass bottles, complete with a round marble to seal it, Ramune is sure to bring back the nostalgia of summer. You can spot it frequently during the summer festivals in Japan.


CC Image courtesy of Mike Mozart on Flickr

Although banta is typically sold by informal vendors, Ramune is one of very few commercial soft drinks in the world that still uses Codd-neck glass bottles. The name Ramune is derived from the English word lemonade and it remains a much-loved beverage across Japan. Apart from the original lemon-lime ramune flavour, this drink comes in a variety of other flavours as well, including melon, strawberry, and orange. And trust the Japanese to even come up with Hello Kitty, Pokemon, and Naruto versions of it!
In fact, this refreshing beverage is so popular that Japanese companies have created "ramune candy", which packs not only the original flavour but also the fizz!