After 6-month of studying, summer comes with 2-month off campus. What is your plan for summer vacation? In my case, I used to travel around Japan in the first week of my vacation and spend the rest laying back on my bed watching movies and surfing the Internet. It seems to be a waste of time, I realized. I suck at Japanese, to be honest. I thought that nobody would ever recruit me for a part-time job in Japan due to the language barrier. I was so unconfident to step out of my comfort zone and seriously look for a job. My friends around me all got well-paid part-time jobs, which makes me feel quite insecure about myself. It was my boyfriend who persuasively encouraged me to walk around my neighborhood and apply for whatever kind of job available regardless of my hobby. I was pretty picky, frankly, that I thought only office jobs suit me the most. I was proven to be wrong. I love my part-time job now, at a butcher shop, processing high-quality wagyu (Japanese beef), which I had never thought of before even in my dream. I would like to share with you how I got the job and what it would be like to work in a processing factory in Japan.
From application to getting recruited
On a sunny day, I stepped out of room and went for a wander along the main road near my home. I walked slowly, looked into every single ramen restaurant, supermarket, convenient store and shop to check if there is any job post that I could apply for. Actually, all of those places were seeking for part-time staffs with similar hourly rate. After noting down their phone numbers, I strode back home and immediately called each of them. It was not until the third call that I got an appointment for job interview. The first two places turned me down for the same reason: "We have enough staff right now". I guessed they were making a reasonable excuse to refuse my application since I am a foreigner and cannot pronounce beautiful Japanese. If they had hired enough workers, why didn't they take off their job posters? It is obvious that customer care position, hall staff position, cashier position etc. which require effective communication with Japanese will prefer Japanese to foreigners. At the end of the day, I made appointment for interviews with three places: a butcher shop, a ramen restaurant and a supermarket.
As a general rule, before going for an interview, you need to prepare in advance your resume in Japanese (with ID photo). Japanese version of resume always has a column to fill in your motivation for the job so spend some time writing down some lines. My first interview took place at the famous butcher shop called Onishi. The person in charge asked me several basic questions about my address, my availability and work experience in the past. It is okay if you do not have work experience. The interview lasted for 10 minutes and I came back home waiting for their call. If a few days pass and you have not received any call yet, don't be so worried. I got their call two weeks after the interview confirming that I was hired and work can be started the following day. I was really jazzed about this news. Finally, I got my first part-time job which is just 5-minute walk from home!
Probation period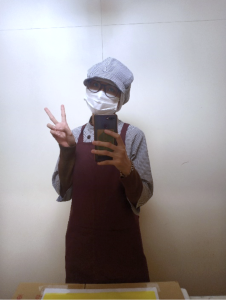 Generally, before officially getting recruited for a job in Japan, you have to pass the probation period during which you are supervised and tested to see if you are suitable for the job. The hourly wage for probation is usually a few hundred yen lower than that for official worker. The shop manager introduced me around to people and showed me the factory behind the selling counter. I envisioned that it was a small butcher shop with less than 10 workers and my job was to wrap and pack the meat.
However, it turned out that Onishi is a four-floor meat processing factory which serves as the main meat supplier for many restaurants and supermarkets in Kyoto prefecture. It is also providing high-quality beef nationwide and its brand is reputational for more than 50 years. Because it is a food factory, hygiene is of paramount importance. Staff are not allowed to wear earrings, bracelets or necklaces. I was given uniform with a hairnet, apron, gloves and work shirts. Before entering the processing place, I have to put my time card into the machine for recording my working hours. My shift is normally from 8.30 am to 14 pm on weekends. Because students are not permitted to work over 28 hours per week, I only go to Onishi on weekends and holidays.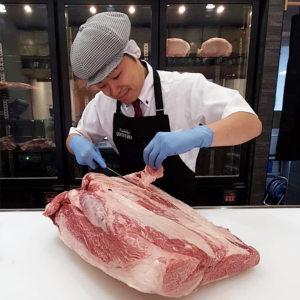 My job is slicing chunks of meat into thin slices then pack them into package which will be delivered to supermarkets. My co-workers, surprisingly, are all middle-aged men who are 25-35 years older than me. Moreover, I am the only foreigner in the factory, which provokes my nervousness whenever I talk to them.
Even though my speaking skill is not perfect, my colleagues tried to explain what I had to do in simple Japanese slowly. They demonstrated the details: how thin the slice should be, hot to operate the vacuum machine, how to pack meat in the fastest way, etc. My first task was to untie frozen chunks of charsiu immersed in big buckets of sauce. I could not do it properly because my fingers got frostbite and went numb and pale. Thankfully, my supervisor did not go off on me at all and tried to ease me off. I remembered on my first working day, they gifted me one pack of charsiu pork and let me try the taste of expensive Japanese beef. Every day I go to work, I will get four pieces of cake as a reward for my hard-working time. I seemed to be weak for not being able to lift up the heavy buckets of meat; however, my co-workers are always willing to help me with muscular task. Although I was pressed by loads of work, I feel like at home for being treated welcomingly and warm-heartedly by friendly 'Ojisan'. They never become infuriated when I made mistakes (dropping meat on the floor, doing poor packaging, …), got distracted while working or failed to accomplish my duty on time. In contrast, they listened to me whenever I voiced my tiredness for repeating the same kind of work for 5 hours, and they tried to distribute the amount of work evenly for me. Thanks to their kindness and effective collaboration, my efficiency increased over time and eventually I signed the contract to become Onishi's official part-time staff.
Advancing my skills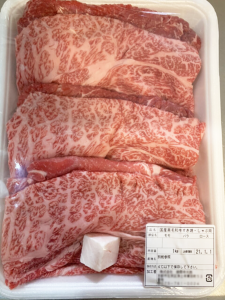 Due to my carelessness, I once cut my finger so deep that blood did not stop bleeding while cleaning the slicer. My co-workers immediately gave me first aid treatment and took over my work. I realized that even a lackadaisical moment may wreak terrible problems. I might lose my whole finger if I'm not attentive while doing slicing job. Onishi provides me chances to learn to become more careful and give extra attention to what I'm doing.
I also picked up my pace to accomplish more work within a given time and got "praised" by my supervisor many times, which cheers me up a lot. Although the work is quite boring and heavy, Onishi is the place where I get to know Japanese from different background, ages and hobbies. We talked about life, breaking news and chit-chatted about trivial stuff just like old friends. Due to COVID-19, I cannot go to school and make friends with Japanese people which gradually blunts my Japanese skill. I had chances to brush up on my Japanese, to know about local culture and learn a lot of interesting things that I could not learn from textbooks, and most importantly, to taste expensive high-quality Japanese beef which is obviously unaffordable to me.
Above is my experience working at a famous butcher shop. If you are seeking for a part-time job during this pandemic without confidence in Japanese, I just want to say that don't be so worried, give any kind of job a try (it's not necessarily be your major). As long as it is a legal work, there is nothing to be ashamed of. I have never thought of me doing slicing job before. But now I am doing it every week and there is no problem at all. I am getting a lot of support from my family and friends since they know I am becoming financially independent and growing up. Since I started working part-time, I have valued the money I made and lived a more frugal life, not shelling out money on unnecessary stuff and minimalizing my lifestyle. Working part-time has really been changing my life. I hope my story incentivize you somehow to continue looking for a part-time job in Japan if you have not found one.