Place: Hyogo Prefecture
Japan has never failed to amaze me with its unique natural beauty and one-of-a-kind tradition. Spending more than two years living in Japan, I am involved in many outdoor activities to dig deeper into Japanese culture and lifestyle.
Besides thrilling and sport activities such as hiking and snorkeling, off-the-beaten paths are always on top of my bucket list. Those are obscure places with less tourist attraction and far away from the city centers.
In this blog, it is my pleasure to unfold my story on an adventurous trip to Hyogo prefecture. I would like to share with you one of my favorite destinations for a one-day trip from Osaka or Kyoto: Takedao abandoned tunnels.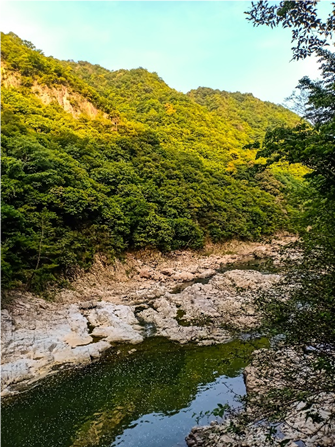 Location
Abandoned JR Fukuchiyama Line connecting Takarazuka and Nishinomiya, Hyogo prefecture is where the locomotive trains once operated.
It is inherently not an official hiking course until the line had been closed 25 year ago. The abandoned line of approximately 4.7 km along the valley of the Muko River has been prohibited from entering for a long time (since 1986).
Although it was open to public for hiking activity in 2016, it is still a non-recognized hiking course and there are still some signboards warning the dangers.
The hiking course features the rusted bridges and murky tunnels and rated as moderate in many websites but personally, beginner hikers can also enjoy the track with ease.
The place is peaceful, calm and most importantly not packed with tourists. You can come across some local hikers along the way and they always friendly say "Konnichiwa", meaning "Hello" to you.
Hiking Course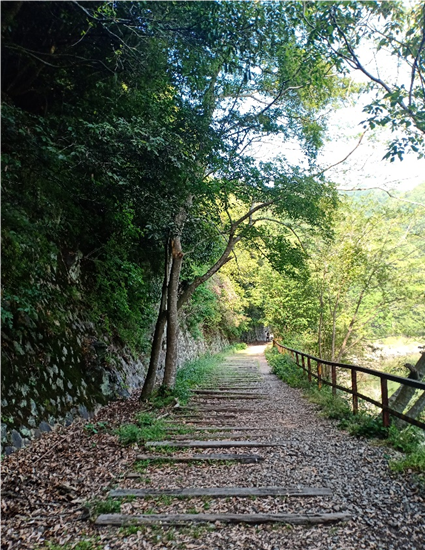 The railway remains, such as six tunnels and three vibrant orange iron bridges, remain almost unchanged since last time they were in use. In the holiday seasons, the course is full of cherry blossoms and autumn leaves. But do not expect it to be spectacular or breathtaking, the scenery is not a highlight of the trip. The feeling of groping through the dark and dreaded tunnels is what fascinates most hikers. The water dripping from the roof of the tunnels and the sloppy ground may cause frustrating feeling to you. It is unavoidable to step onto a water hole on the ground sometimes.
A pair of water-proof shoes will be a perfect choice but other kinds of shoes are fine too if you do not have ones. It is a pleasant walking course that you can enjoy on the weekend if you want to escape from noisy Osaka for a while.
There is also a hot spring near Takedao Station. Along the river, there is even ground that you can set up your tent and camp there for a BBQ party.

The course starts out with a rocky terrain but becomes flatter as you proceed. There are no toilets along the way. Be sure to bring a good flashlight or torch. They will be very helpful especially for use in the tunnels because some of them are extremely dark that you literally will go blind for some minutes and cannot see your feet even in the daytime. Please confirm the other precautions in advance before passing through it. Since the mission as a railroad facility had been completed, it has no longer been refurbished, and facilities such as bridges have become obsolete.
There is high possibility of falling rocks and fallen trees. Therefore, no entry by anyone other than those involved in the installation of signboards is permitted.
However, local hikers just defy the warning and keep proceeding. Before entering the tunnels, you will see the notice that in the unlikely event that an accident or other hazards occur, Japan West Railway Company are not held accountable for it. It is your own responsibility to pay for any medical treatments or any damage repairment.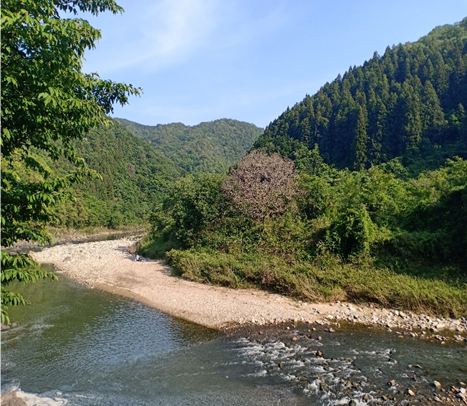 Do not be scared! It is not that dangerous. You can pass the tunnels without any problem in clear weather. The hiking path is a quite easy walk during the day, but when it comes to darkness, the extent of danger and fear will pick up.
Please do not hike in bad weather or after sunset. There is only one walking path with no left and right turn so you are unlikely to get lost there. Keep walking until you reach the final destination.
When you enter the Iwase / Nao Shio area through the abandoned line and start walking along the road, you will see the rich natural scenery of the Mukogawa Valley. You can enjoy the foliage of the thick trees and the calm flow of the river stream.

If you follow the road for a while, a first dark tunnel will loom large before your very eyes. The tunnels remind me of some dreadful murder scenes in the creepy horror movies that I watched long ago. Of course, no murder case has been reported here so don't worry about it!
No bats nor animals above your head neither. Although there is a glimmer of light at the end of the tunnel, you barely can see anything within 2 meters without a powerful torch.
Since there is no streetlight in the tunnel, a flashlight is an essential tool so that you do not crash into the brick wall. I am certain that the flashlight from your smartphone will not be helpful in this case since the intensity is very dim. Although the first tunnel is quite bright to traverse, others are extremely murky.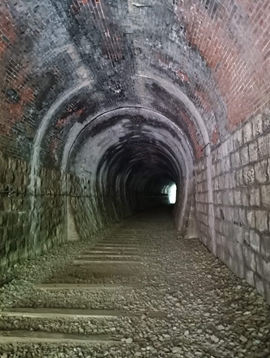 After passing through the tunnel, the second Mukogawa Bridge appears. Be careful while crossing the bridge because there are a plentiful of vividly colorful insects and caterpillars that might hurt you with their sharp thorns.
I know it is difficult to resist touching those cute tiny creatures but your health must be prioritized! Nobody knows if they are poisonous or not. Obviously, doctors will not be available immediately to attend to you if you got stung by their spines.
The vibrant orange color of the bridge surrounded by the lush green of the mountain is definitely a highlight for your Instagram photos. Wipe off your sweat and get ready for some shoots 😊.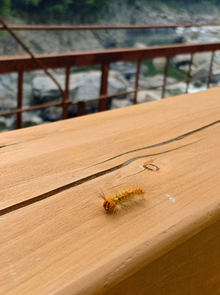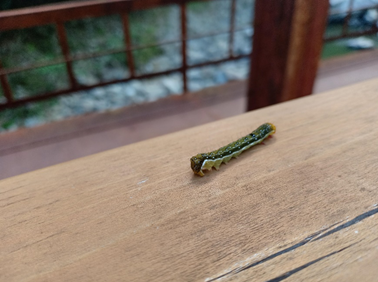 You can also enjoy the cherry blossoms in the spring around Sakura Garden (Kurakusanso) in the middle of the trail. There are toilets at both train stations at the starting point and end point but none in between so make sure you go there before setting off.
After the trip, it is a good idea to indulge yourself a hot bowl of ramen or immerse in a hot spring bath tub near Takedao station for the rejuvenation of your legs.
Japanese people are bound to soak themselves in Onsen bath after a hard day walking. If you do not mind being naked and taking a bath with strangers, give it a try. You will definitely live it!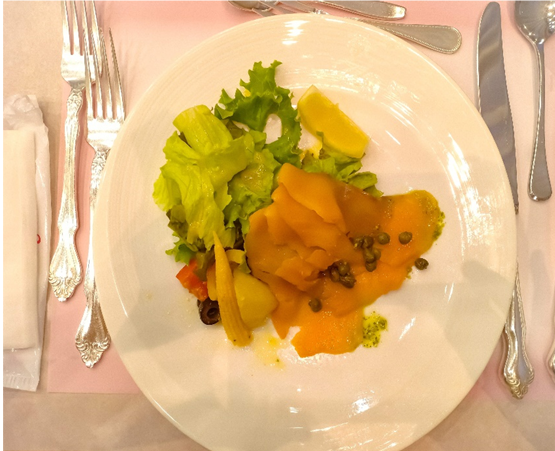 Access
1. There are many ways to reach the hiking path. Here is the access to the starting point:
15 minute walk from nearest station JR Fukuchiyama Line "Namaze Station" "Nishinomiyanajio Station", 5 minute walk from "Takedao Station"
2. Access to Takedao station from Osaka:
● From JR Osaka Station (Approximately 40-45 minutes) Take the JR Takarazuka Line / Fukuchiyama Line and get off at "Namaze Station", "Níhinomiyanajio Station", "Takedao Station"
● From JR Sannomiya Station (approx. 60 minutes)
Transfer to Amagasaki Station on the JR Tokaido Main Line, and get off at Namaze Station, Nishinomiyanajio Station, Takedao Station on the JR Takarazuka and Fukuchiyama Lines. The starting point is a bit hidden so please look at the route from the JR stations to the abandoned line entrance from the link below before your trip:
https://www.google.com/maps/d/viewer?mid=1nDT1FYXtdVpS304p4R7GV93gJmSl_NZz&usp=sharing