By Salah Aldin Falioun
With a growing population of anywhere between 150,000 to 230,000 according to different estimates; the Muslim community has long been living and working in Japan including mostly foreign residents with roughly more than a fifth of Japanese converts.
-Like the very first community of migrating Muslims to "Almadina" with the prophet Muhammad Peace Be Upon Him along with the -back then- new converting Muslim residents- the Muslim community in Japan strived a long time ago to build mosques for the community.
The very first mosque is believed to be built in Osaka for Russian Muslim prisoners in 1905; ever since the number of Mosques has been growing to accommodate the growth of the Muslim Community, reaching around 110 mosques all over Japan today.
With such a relatively new community in Japan, I could have only imagined having very basic mosques with less architectural identity, but that idea completely changed when I visited the infamous Tokyo Camii that looked as if it's a piece of Turkey, and the more I learn about the mosques here the more I become fascinated about the unique history and architectural style of each mosque.
Today I'm presenting you my three picks for quite distinctive architectural styles of mosques in Japan:
Tokyo Camii (Japan's biggest mosque)
Located in the center of Shibuya ward near Yoyogi park, the Tokyo Camii can accommodate 2000 faithful.
With its oriental Turkish architecture, it surprisingly blends just perfectly in Tokyo; especially within its district Ōyama-chō.
Tokyo Camii was first built in 1938 by the community of Turkish immigrants from Kazan-Russia. In 1986, the mosque had to be demolished due to severe structural damage, and a new building was begun in 1998 with the support of Turkey's Directorate of Religious Affairs, and the construction was fully completed in 2000.
Inspired by the 16th-century architect Mimar Sinan, Hilmi Senalp -the architect of Tokyo Camii- based his designs and ornamentation on Ottoman religious architecture with the tall minaret unique dome, and secondary domes; resembling Sultan Ahmed Mosque (Blue Mosque) in Turkey.

With around 70 Turkish craftsmen that worked on the finishing details, including the majestic chandelier that crowns the prayer hall, and the Arabic calligraphy all around the walls; no wonder that Tokyo Camii is considered to be the most beautiful Mosque in Japan.
Besides regular daily prayers, and Friday mass prayers, Tokyo Camii has a Turkish Cultural Center, and a Halal Market, it also holds regular tours for visitors, in addition to linguistic and religious classes.
Kobe Mosque (Japan's oldest mosque)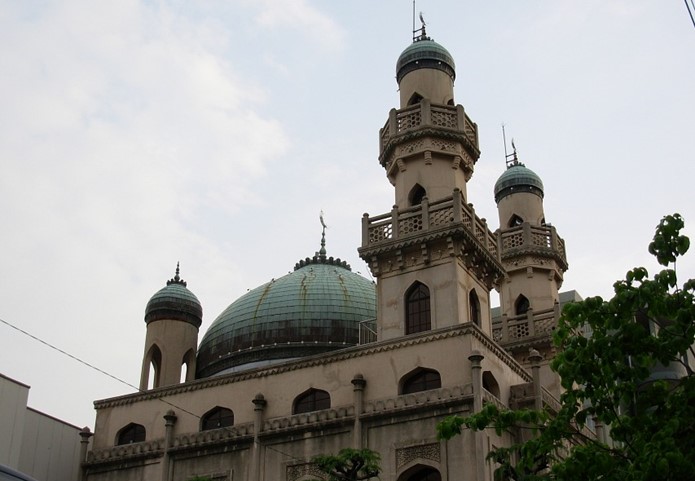 Since the first mosque of Osaka was more like a room for praying, Kobe Mosque is widely believed to be Japan's first Mosque that dates back to 1935.
The construction of it was funded by donations collected by the Islamic Committee of Kobe from 1928 until its opening in 1935.
Located in the Kitano-Cho foreign district of Kobe, and surrounded by many old western-style buildings, Kobe Mosque remarkably still standing after surviving many historic events, including the air raids that laid waste to most of Kobe's urban districts in 1945 and the Great Hanshin earthquake in 1995.
Unlike the Ottoman-inspired Tokyo Camii, Kobe mosque with its two towers in front was built in traditional Indo-Islamic style by the Czech architect Jan Josef Švagr (1885–1969), the architect of several Western religious buildings throughout Japan. It looks like it just popped up out of a tale from the Arabian Nights.
Gifu Mosque (First Mosque in Gifu Prefecture)
The Gifu Mosque or Bab al-Islam Gifu Mosque is definitely unique and relatively new in Japan.
Established by Nagoya Mosque, the construction of Gifu Mosque was completed on 30 June 2008 costing JPY 129 million in total.

The Middle-Eastern architecture of Gifu Mosque is eye-catching, comprising simplicity and elegance and at the same time, with three domes, two minarets, and a unique white paint that is common in the Arab Gulf countries.
The mosque has a 2-story building with a total area of 351 m2, it holds many religious activities and includes a Muslim Culture Center in addition to an Islamic School.
You can access the mosque easily from Gifu Station by taking the bus bound for Gifu Daigaku (Gifu University).
So, these were my three top picks, with three distinct architectural styles.
Most of the Mosques in Japan are open to visitors, but before heading to one of these unique mosques or other ones, keep in mind a few rules that must be followed there:
Women must cover their heads; usually, scarves are available at the entrance of religious buildings.
The men must cover their legs.

Finally, you should never put yourself in front of a faithful praying, this would place yourself between him and Allah.
Already thinking to visit a nearby mosque? Let us know in the comments ^^
References:


History of Islam in Japan, Islamic Center Japan
Tokyo Camii & Turkish Culture Center