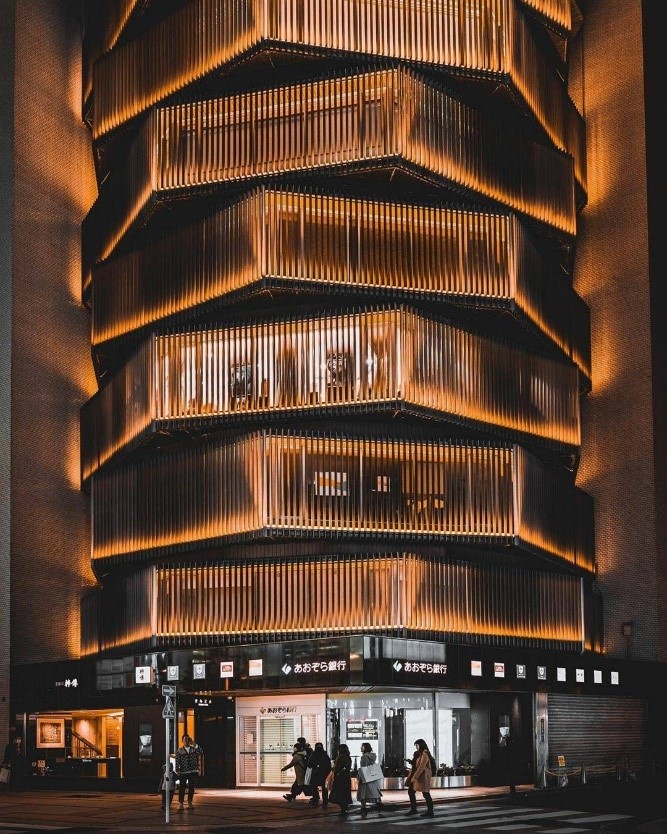 Japan never fails to intrigue me not only in cultural aspects but also in terms of the advanced technology and architectural design. One day roaming around Shinjuku area, I have seen many buildings with staggering designs that stand out from all other infrastructures. Those buildings are not just about unique architecture but also the meaningful stories behind their construction. I would like to introduce you two most symbolic buildings in Shinjuku area that shine a powerful spotlight on Japanese modern architecture and design.
1.Yasuyo Building
Yasuo building was constructed in January 1969 in Shinjuku area, Tokyo. It is a product of Nomubichi Akashi, who is a connoisseur of architecture and also a professor at the Faculty of Science and Engineering, Waseda University. This building was constructed by Zenichi Yasuda, who is the chairman of Shinjuku Higashiguchi commerce and industry association, as a memorial building for his father. Zenichi Yasuda's younger brother asked Akashi to design it because he was his teacher when he majored in architecture at Waseda University. In addition to this Yasuyo Building, Akashi's works can be found at Shinjuku Musashinokan, Shinjuku Ward Office, and the east exit of Shinjuku Station. It has a total of 2 basements and 9 octagonal shaped floors. Each floor deviates from its underneath floor by 22.50, turning the whole building into a stack of octagons in a spiral-like shape. The lighting designer Masanobu Takeishi employed louvers which are windows with flat pieces of wood or metals across it to bring in light and air for ventilation. He said that he wanted to make use of the properties of louvers that is subject to change at different view angles. The interior designer Yuki Hashimoto proposed a method to illuminate the exterior appearance of the whole building. Yellow light is emitted from the inside of louvers. Because of the lighting from tenants and offices on every floor, it is quite a difficult problem to control all the light source and blend them harmoniously for a gorgeous exterior. The illumination at night using water-proof LEDs enhances the brilliance and beauty of the beauty, giving it an amazing look from Shinjuku Station.
On the 6th, 8th and 9th floor of this building exists the well-known Kaiseki tea store named "Kakiden". Kaiseki cuisine-It's a word I often hear, but I think there are surprisingly few people who know what it really is. Kaiseki cuisine is a light meal served before enjoying the tea ceremony, and its main purpose is to enjoy the tea deliciously. The tea restaurant has a long-lasting history of 300 years, succeeding the traditional style of Omotesenke tea school in Kyoto. In addition to authentic tea kaiseki, mini kaiseki, lunch boxes, and a scrumptious menu called "fun lunch" are also available at the chair seats on the 8th floor. The dishes served here are primarily considered to satisfy hunger for tea, which are spiked with seasonal ingredients that are rich in flavor but without strong aromas.
Kakiden was first opened in Yasuyo building in 1969. There was a story behind the birth of this store, a deep friendship between Zenichi Yasuda and Yasunari Kawabata. While attending Tokyo Imperial University, Zenichi stayed for a long time at the Fujiya Ryokan on the old road in Karuizawa for the treatment of tuberculosis. He then met the writer Yasunari Kawabata there. They were also alumni of the university, and got along well with each other after a tea ceremony on the campus. Since then, their intimate friendship was deepened. After that, Zenichi took over the family business and consulted with Kawabata about the structure of the building when constructing Yasuyo. Then, he said, "I want a place in Shinjuku where adults can spend their leisure time" and he wanted to rent a place of about 30 tsubo in the building and open the store with the cooperation of a familiar antique art store. He chose "Binoten" as the name for its shop which literally means "Shop of Beauty". The signboard for his shop was drawn by Kuwabata himself. However, Kuwabata won the Nobel Prize for Literature in 1968 and was so busy with his work that the opening of Binoten reached an impasse. Only until Kuwabata introduced Iemoto from Omotesenke, did the idea of Kakiden emerge. You can see the perfect blend of the tea store interior design and Yasuyo building itself. The ceiling of the store also has a octagonal shape with yeallow lighting system that transforms the whole store into a warm and cozy place to enjoy tea ceremony.
2.Mode Gakuen Cocoon Tower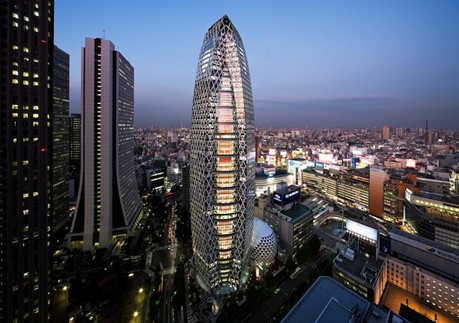 Mode Gakuen school building was built at the west exit of Shinjuku station. It includes 3 vocational schools with approximately 10,000 students, which are connected by corridors to create open campus spaces for students. Its structure consists of 3 diagonal frames on the outer circumference and an inner core. This building is an unprecedented project ever built. The project was an open competition with more than 100 teams from Japan and abroad. Over 150 proposals were presented. The president of Mode Gakuen was very passionate, and since school is a place where dreams are nurtured, he enthusiastically says that he wants a space with dreams and a building he has never seen before. Eventually, the idea of Masaki Nakayama was adopted. Nakayama said: "Of course, classes are important for students, but what's more important is the break time and after-school time. A school is not only a school building but also a place to enjoy campus life. Students have discussions, chats, talks with their teachers, and even surf for romance on campus. It's important that they know about events and happenings on campus, so it makes sense for students to come to school, but in the case of high-rise buildings, you don't know what's happening on other floors. It's important that students can go freely to every classroom and see what is going on. Elementary and junior high schools were traditionally three stories high. Although Cocoon tower is a high-rise building, the interior is a stack of three distinct study areas: fashion, medicine and space technology. It is ranked as one of the most unique building in the world. The cocoon, the so-called name of the building, is the covering made of soft, smooth threads that surrounds and protects particular insects during the pupa stage as they develop into adult form. It is a state of wrapping and protecting the creatures that are about to start their journey into life. If the student is a person who has not yet jumped out into society, then the school that helps him/her develop skills and knowledge for his/her future is similar to a cocoon. That is the reason why the exterior was designed from the inspiration of a cocoon which is structurally stable and requires highly developed technologies to construct and reinforce the building to withstand seismic events like earthquakes. This building not only has a unique architecture but also embraces a meaningful idea behind its design.
Next time when you visit Tokyo, spare some time to go and see the magnificence of these buildings. Contemplating a building is interesting, but it would be more amazing to understand the reasons and the context of its construction. It is believed that the number of unique architectures and skyscrapers is one of the measurements for the development of a country. Japan owns a lot of architectural wonders, filling its name to the list of highly developed country in the world.
Bibliography