It is said that the heart of Japanese culture lies in Kyoto which was Japan's capital from 794 to 1868. Located in Kansai region in the main island, Kyoto embodies the distinctive Japanese traditions which you cannot find anywhere else such as Maiko and Geisha. Throughout history, Kyoto has been serving as the home to an impressive number of temples and shrines with unique architecture. Kyoto witnessed many destructions in wars but has been reconstructed in a fast pace while preserving the historically valued sites. It is also one of the biggest cities in Japan in terms of economy. Kyoto is now considered to be the integration of tradition and modernity as well as the past and the future.
Machiya-where "old meets new"
The center of Kyoto, Gion Ward, stands rows of ancient houses called "Machiya" (or "eel's nest") which have a long shape, narrow frontage with enclosed small gardens (Figure 1). Machiya is traditional townhouses which were built mainly for living purpose in the past but now have mostly converted into restaurants and shops. In the old days, the wider the front face of machiya was, the more tax was levied. Thus, merchants evaded tax burden by reducing the width and lengthening their house. Interior gardens are designed to bring in light and fresh air to the space deep in the back.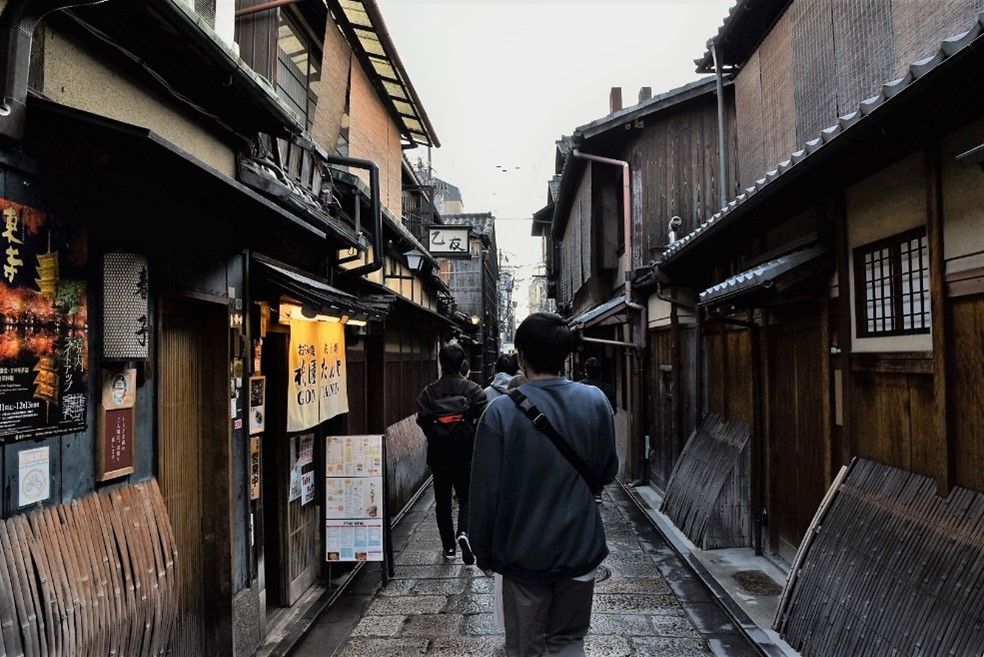 Because Kyoto was not bombed in the WWII, many machiya houses still remain and were reestablished to resist fire and disasters. Most of machiya houses in Kyoto is a combination of old and new design elements (Figure 2).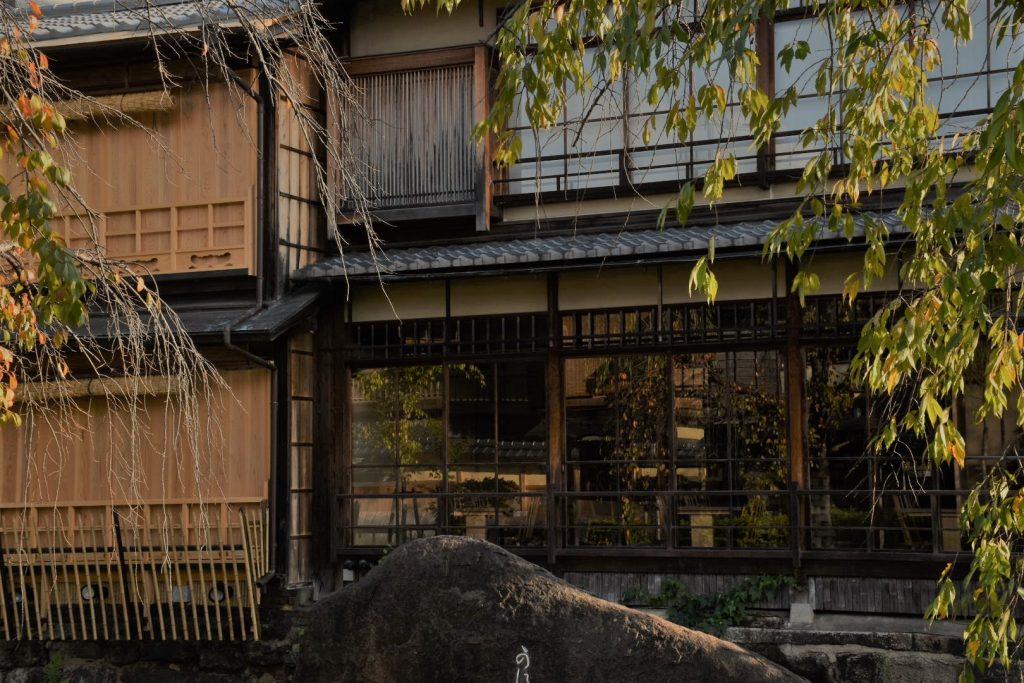 The rooftop of a typical machiya generates wave-like effect which is created by neatly aligned dark-gray kawara tiles. Just below the roof is a modern element added to protect the house against fire called mushiko-mado, "a small lattice window fixed into the plastered earth walls on the second floor" [Kyoko, 2018].
This serves as a storage place and fire-prevention measure by keeping flame from spreading from burning house across the road due to the characteristics of Kyoto narrow streets. New materials besides wood are also employed to reinforce the house frame but the ancient interior still remains untouched.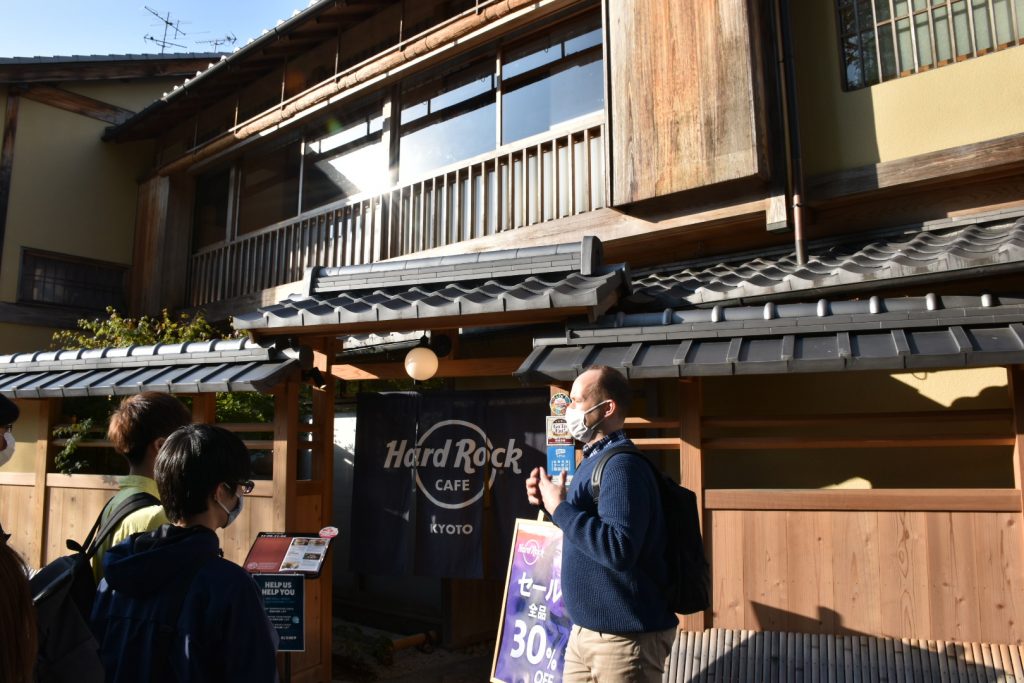 The frontage of machiya houses were redecorated, new designs such as front garden and front gate with hanging curtain were executed to turn the traditional machiya houses into commercial buildings for tourism purpose (Figure 3). In Gion Ward, there are many newly built houses that resemble machiya style on one side of the street and authentically old ones on the other side, all of which serve as either Japanese or Western restaurants.
It is not uncommon to spot Germany or Vietnamese restaurants with the appearance of wooden townhouses in Gion ward. Machiya has now changed its role from living place to commercial place as the rapid growth of tourism industry in Kyoto. Tourists can now sit inside a Japanese ancient home while enjoying a cup of coffee or tea. The new utility of those houses has become the key to attract more visitors and promote Kyoto culture.
The hybrid of architectural design
Walking on the street of Gion ward, one can easily notice the harmonious combination of ancient Japanese architecture and Western styled buildings. For example, modern hotels stand next to machiya townhouses, Canada-styled Gion post office (Figure 4) stands next to a building with Greek theatre-like structure or shrines inside crowded shopping arcades. According to Kyoto City Office (2020), there are 201 items designated as important cultural properties by the national government in Kyoto, out of which, 171 or 85% are temple and shrine buildings. Kyoto miraculously sustained little damage in wars and retained its precious cultural sites. Universities, banks, offices… were constructed in an unrestricted manner in Meiji era. For the recognition of Kyoto as an international city, much attention was drawn to the establishment of tourism-oriented facilities and services.
Kyoto has been attempting to preserve its historic value while blending modern features to the city. Inside one of the busiest shopping streets in Kyoto, Shinkyougoku street, stands Nishiki Temangu Shrine (Figure 5). It emerges beautifully as a cultural and religious asset of Kyoto. The tranquility of the shrine outstands in street and it is frequented by local people and thousands of tourists every day. It is not rare to spot such shrines and temples inside residence areas and crowded districts, which is a special characteristic of Kyoto. Just few steps from Nishiki Tenmangu, modern Kyoto comes into view with huge malls and train stations built of glass, bricks and cement in European style. The surrounding is crammed with grocery stores, cafeterias, souvenir shops, etc. Everybody is in a bustle (Figure 6). However, 200m away from the station, along the river, there exists rows of wooden restaurants in Japanese style. People in the restaurants and on the bank seem to spend their time at leisure (Figure 7). Two contrasting scenes enhance each other and create the uniqueness of the town.
Between two tall buildings often exists narrow shortcuts leading to hidden places where the local dwells in old townhouses. Those places are blurred by crowded streets and colorful fronting restaurants. Hopping around Gion ward, one can marvel at the harmony of coexistence of the tradition and modernity of Kyoto.
Kyoto: City of future
"The great majority of the city is composed of modern structures and technologies, which represent a new interpretation of traditional forms", said Andrea [2019], Kyoto University professor. The employment of advanced technologies in the city, the promotion of public transportation, the utility of electric car, etc. are altogether shifting ancient Kyoto to "hybrid" Kyoto. Modernization does not mean westernization which has a negative meaning to Japanese culture. Old houses and buildings carry novel shapes and are utilized in a more effective way. Kyoto has been redefining itself as a city of learning, a city of cultivated industry, an environmentally friendly city and an international city. The desire of transforming Kyoto to the foremost city of Japan is on the way.

References
Kyoko, S. (2018, 6 1). Recognizing Design Features in Kyoto's "Machiya" Townhouses. Retrieved from Nippon.com: https://www.nippon.com/en/guide-to-japan/gu900011/?pnum=2

Kyoto City Office. (2020, 11 5). Background of formation of the historical scenic beauty of Kyoto. Retrieved from Kyoto CIty Official Website: https://www.city.kyoto.lg.jp/tokei/cmsfiles/contents/0000120/120167/rekimachi_E_2_1.pdf

Urushima, A. Y. (2019). Urban innovation in Kyoto. Novelty in cultural heritage making. Retrieved from International Institute for Asean Study: https://www.iias.asia/the-newsletter/article/urban-innovation-kyoto-novelty-cultural-heritage-making