Being born and raised in Vietnam whose ¾ of the area is mountain, I had chances to summit several peaks in Vietnam and built my love for hiking. After coming to Japan, a country that shares similar geographic terrain with Vietnam, I decided to explore the mountainous areas in the north and in the south of Japan, especially peaks in the North Alpes, to find out the differences between the hiking culture of two countries. What I figured out has completely changed my attitude towards hiking and the way I enjoyed my hobby.
Mountains are not just mountains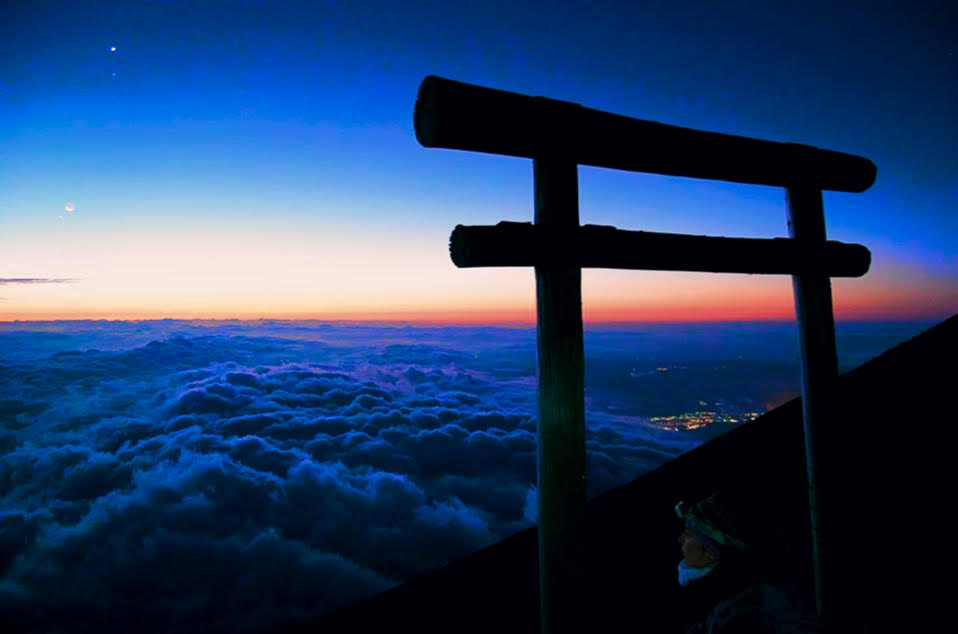 For Japanese, mountains are not just a raised part of the Earth surface, they are sacred symbols and have special meaning to Japanese religious life. In Japan, it is a strong belief that nature is cherished by Gods who dwell in trees, mountains, rocks, etc. Mountains have been an object of worship very long ago and they are considered the holy places where ordinary people can reach to their God. Temples and shrines were built at the top of most of the mountains in Japan as a place of pilgrimage.
The most famous mountain for worshiping in Japan is no doubt, Mt. Fuji, which is the highest volcano in Japan with an altitude of 3776m. Thousands of hikers ascend to Mt Fuji every year to hope for salvation and worship their God. One of my friends has been climbing Mt. Fuji for 17 times and he will continue to summit it every year. He said it was a special feeling to reach the peak that no word can describe. Emotions such as excitement, happiness and fear will arise so intensively that you cannot control. At the summit, you can feel deeply the nature, the wind, the sound and the sun. Some people even shed tears while enjoying the sunrise on top of Mt. Fuji. Japanese is said to be good at hiding their true feelings but on top of the mountains, no one could suppress their emotions.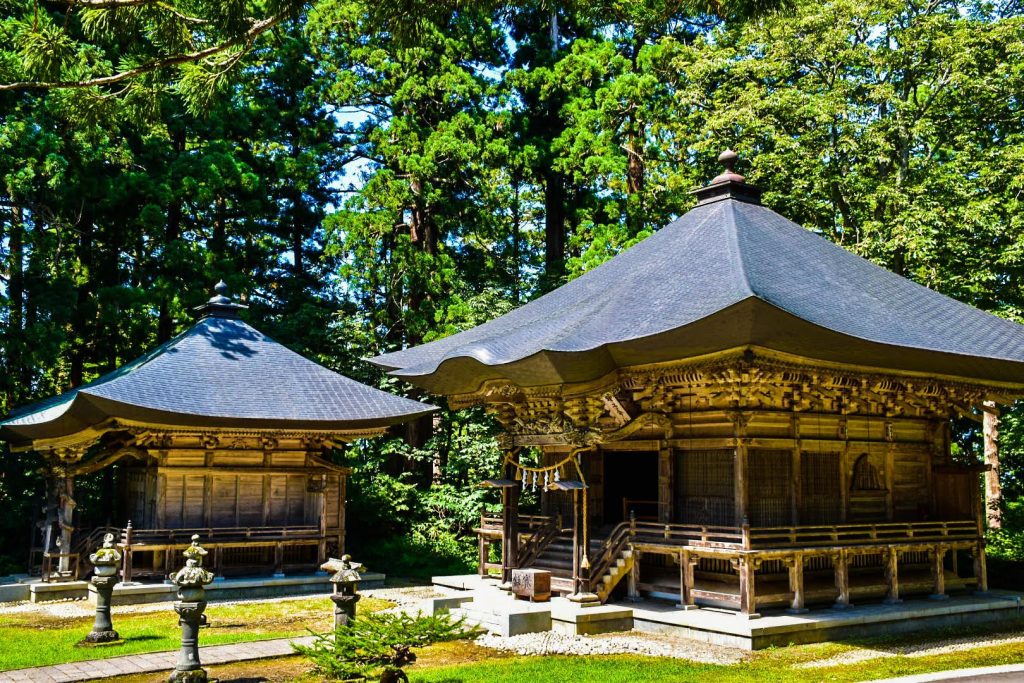 Another well-known sacred mountain is Mt. Haguro in Yamagata prefecture where climbers have to climb 2446 steps to reach the lives of deities. Thousands of monks and priests come to Mt. Haguro Shrine at the summit every year which is considered to be the start point of the Journey of Rebirth.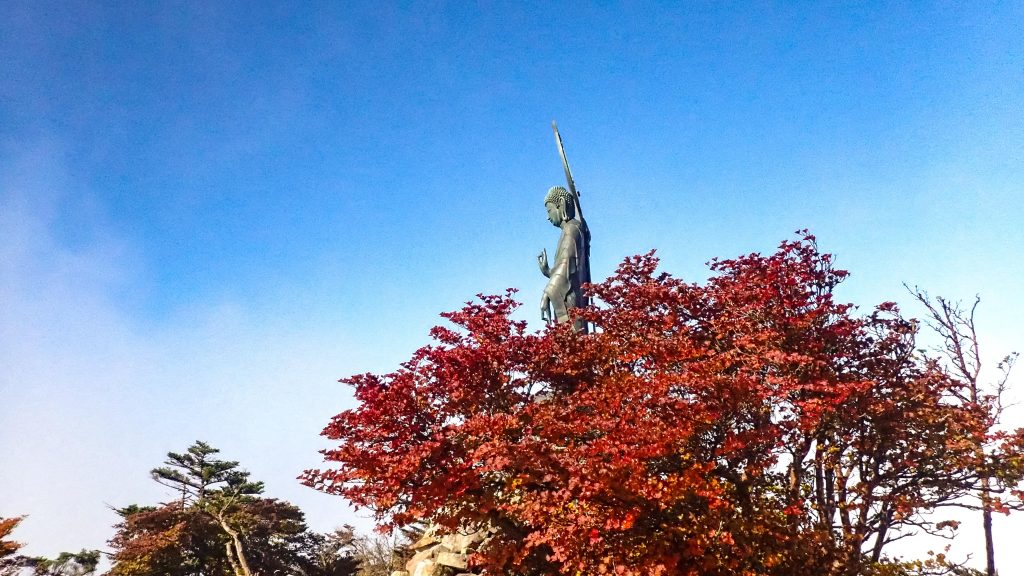 Once I climbed to Mt. Shakagatake in Nara prefecture, its summit stands a huge Buddha statue weighing up to 400 kg which was carried to the top of the mountain by a very strong men in the past.
The mountain then became sacred and is under the protection of the Buddha. Pilgrims visit the mountain and place their wooden name tag under the statue as an evidence for their religious journey.
In Vietnam, mountain worship does not associate with hiking. There are very few temples or pagodas or shrines at the summits that were built for long. The pagoda at the top of the highest mountain Fansipan in Vietnam was built to attract tourists, there are no pilgrims visiting the mountains on a daily basis. People climb to conquer, to explore themselves, to get involved in the beauty of nature. Conversely, the history of mountain worshiping is a part of Japanese culture and people climb to fulfill their spiritual mind rather than seeking for a feeling of satisfaction when conquering a peak.
Hiking is a pleasant hobby, a habit, a healthy activity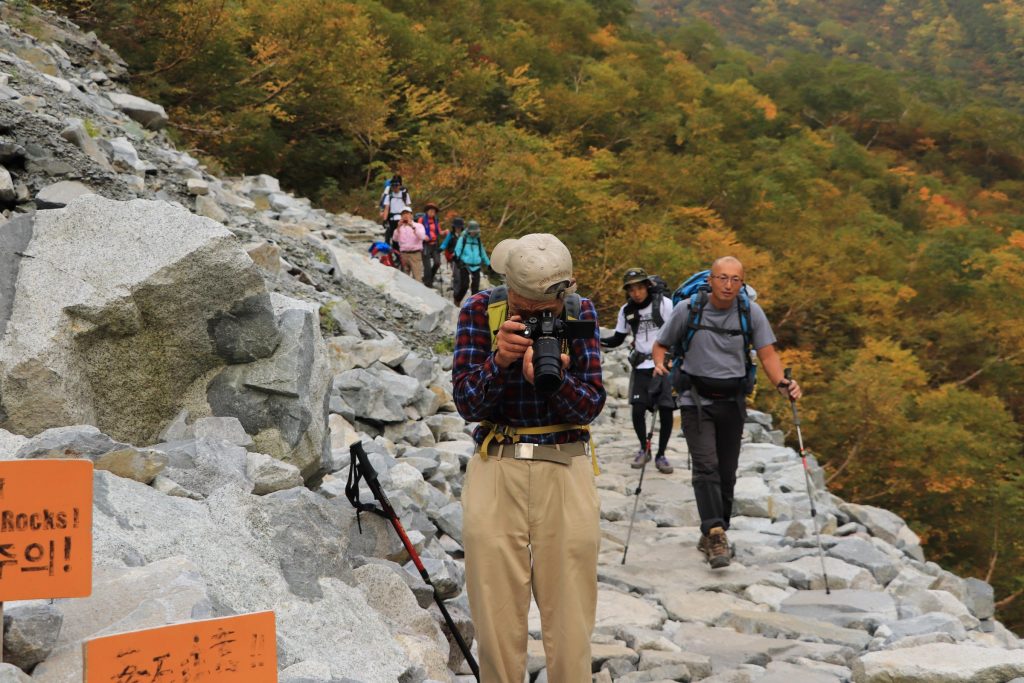 I had opportunities to hike some sacred peaks in the Northern Alps which are above 3000m and was really surprised to see a group of elementary students and kids climbing to Mt. Omiya and Tateyama (Nagano prefecture) under the guide of their teachers and parents.
Even though they were tired, their faces were brimming with sweat, they tried their best to follow their friends and succeeded in summiting the peak. I was not amazed by their strength but by the way Japanese teach and train their future generations. They bring children to the summit of mountains and teach them about history, religion and environment. Kids are also trained to become stronger and healthier through hiking instead of staying at home and playing with smartphones. In this way, kids build the connection to nature and understand the linkage between human and environment when they are still young. This would become a good habit of taking care of the environment when they grow up.
Not only kids but the elderly also enjoy hiking as a healthy outdoor activity. It is interesting to see a lot of kids and the elderly going for a hike in Japan, which seldom happens in Vietnam . Japanese elderly is amazingly active and healthy. I bumped into a lot of 70 and 80-year-old people on the way. They all carried cameras to capture beautiful moment of nature and walked mostly as fast as teenagers. According to a survey conducted in 2016, the total number of hikers above 15 is nearly 10 millions in which make hikers aged 65=69 occupied 13.2%, while female hikers aged 60-65 accounted for 12%.
Many elderly people to whom I talked started hiking since they were ten and they maintain their hiking hobby until now. Japanese hiking culture involves people of all ages who have one point in common: spreading their love for nature . In contrast, hiking is not a popular sport in Vietnam. Most Vietnamese elderly inclined to play sports such as badminton, golf, tennis and walking. If you go hiking in Vietnam, it is rare to see 60~70-year-old walking with a heavy backpack like in Japan.
Mountain facilities and Onsen culture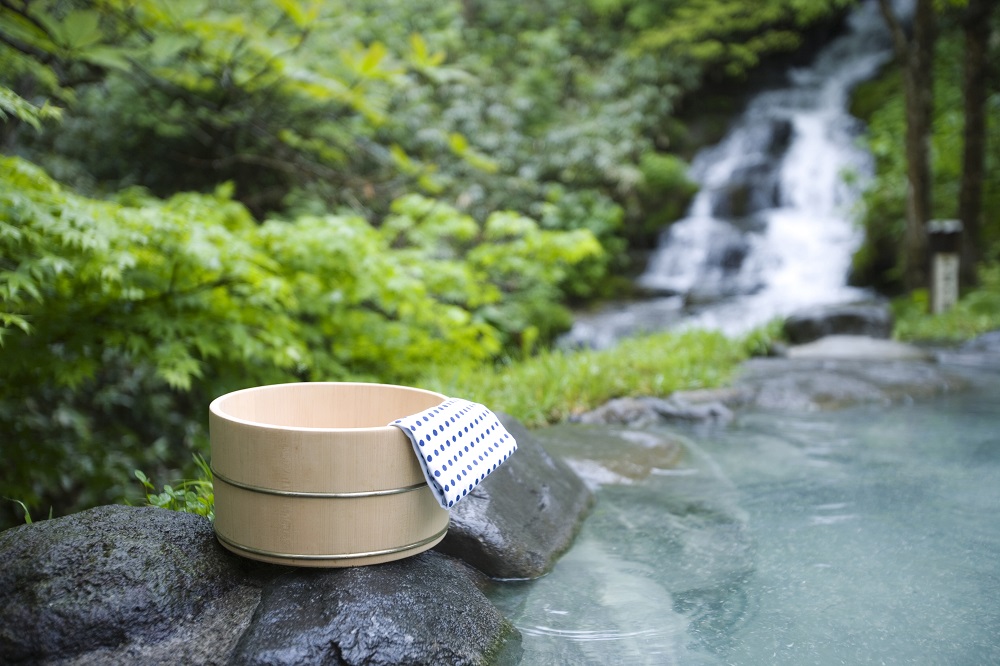 One of the reasons why Japan is a paradise for hikers is that the hiking routes are very well-maintained with clear signboard and the mountain can be easily approached by public transport. Many hiking routes are paved with wooden panels or stairs.
If you want to hike a mountain, its map and trails can be searched promptly on the Internet with detailed description. No porter or tour guide are needed to hike in Japan which is the best option especially for solo hikers.
Japanese built many huge huts along the trail to popular mountains such as Mt. Fuji, Mt. Tateyama and Mt. Hakusan where hikers can have a good sleep and meals before summiting and enjoying the sunrise. I would say you can never get lost if you go hiking in Japan. In Vietnam, we need porters to go with us because there are no signboards nor paved trail. Without porters, hikers will easily get lost in the forest. Huts are small and were not supplied with electricity nor water nor food.
The most important and different thing between hiking in two countries is that hiking in Japan always ends up with hot spring bath, meanwhile in Vietnam there are no Onsen, so people cannot rejuvenate their stretched body after a multiple-day hike. Onsen bath has become an indispensable element in Japanese hiking culture. Without hot spring bath, your journey seems to lack something important that help you and your mind fully relax and refresh. Nothing can beat the satisfied feeling when soaking the body completely inside a hot spring tub after an exhausting hike.

Japan would definitely be one of the best countries for hikers who are looking for brand new experiences. Hiking in Japan is not only just about contemplating the gorgeous mountain views, improving health but also learning about Japanese culture, history and religion. Hiking in Japan requires a combination of strength, spirit and commitment with impressive numbers of trails and mountains to explore. If you are interested in Japan nature and culture, do not miss the chance to go for a hike in Japan.