Kyoto is primarily known for its ancient architectures, shrines and culture. Thousands of Ramen restaurants have been opened in Kyoto and brought a lot of tourists to the area. I am currently residing near Kyoto University and there are at least 50 ramen restaurants within 3 km from my house. If you plan to visit the Silver Pavilion or just simply pass by Kyoto university and want to find a nearby place to dine in, this article is right for you.
I would like to introduce Ramen restaurants that are popular among Kyoto University students, which means that they are always packed with people and you need to wait in a long line especially in peak hours. Just kidding! Not all of them are always crowded like that.
1.Fukusenro
Maps: https://goo.gl/maps/etAzS98qLhWqVTrA9
Fukusenro is by far my most favorite Ramen restaurant. Their main dish is Taiwanese styled ramen with chopped pork and braised sinewy pork. The menu I ordered was Sujiniku Ramen which included homemade chewy noodles, braised pork, chopped meat, a pinch of bean sprouts and quite thick broth with strong garlic flavor. What I liked the most is the chili paste of this restaurant. It was really spicy and spicy. You can't go wrong with the thick broth mixed with this chili paste. If you are a fan of spicy food like me, just add the past as your liking. It is free! Although the broth is dense and savory, it is not salty at all. You can drink the soup to the last dreg. Personally, I prefer charsiu meat to braised sinewy meat because it is quite fatty to me but my friend loves this kind of meat more than anything else since it is very tender and well marinated. I usually order Charsiu noodles or Yatai soba (without broth, sprinkled with chopped meat, bamboo shoots and bean sprouts and tastes delicious too). The restaurant opens only in the evening until 8.45pm. If you go there in the morning, it is a different ramen restaurant named Tonryu which serves totally dissimilar kinds of ramen. I have tried a lot of ramen restaurants in Japan and I am totally into the flavor of Fukusenro.
2.Akutagawaryu
Maps: https://goo.gl/maps/YTt8Ku4g5o9s2HGf8
This is a newly opened ramen restaurant near Kyoto University. It serves a kind of Ramen called Jiro Ramen. Jiro ramen is extremely popular in Kanto region with many famous restaurants. Jiro ramen features a high heap of bean sprouts and cabbage, thick flat noodles entwined in thick pork bone broth. The big bowl of Ramen gave me a filling and fulfilling impression. The strong odor of garlic and salty soup may not be suitable for some people. There are three different kinds of dishes in this restaurant: white ramen, black ramen and red ramen. They have different color and toppings. The staff said that boys usually go with black ramen while girls often choose red one. I have tried all three kinds and my favorite one is the white one. They share similar taste in general and all are scrumptious. You can customize the saltiness level, the doneness of the noodles (soft or firm) and the amount of oil as your liking by telling the staff after you buy the food ticket at the vending machine. If you choose firm noodles, perhaps you have to move your jaw a lot since it is really tough. They also offer you apron to wear while eating. Because of salty broth, I would not recommend to drink it. Many people often order some rice to eat with the broth. For me, I did not have room for more rice when I finished my bowl.
3.Kirameki JAPAN
Maps: https://goo.gl/maps/Rewf1tsTTbBf2LYx9
This place is packed round the clock. They only have several counter seats and most of the time, I had to wait in line outside for 30 minutes. This restaurant is well-known for its Taiwanese styled mazesoba. With 750yen, you get 3 options for the amount of noodles: small, regular and big. There are also super big and mega big menu for additional 100yen. If you are confident with your stomach capacity, go with "big" bowl. However, keep in mind that it is lame to leave the noodles in the bowl. Be sure to order the right amount of noodles, don't ask for more than you can eat! Mazesoba is topped with raw egg, garlic, green onion, seaweed and minced meat. The noodles are very tasty at first but after a while, they become sobby and the flavor is changed. They also serve ramen with pork bone broth. You have an array of noodles menu such as tantan ramen, jiro ramen, shoyu based ramen, salt-based ramen, etc. The thick slabs of charsiu are well seasoned. fragrant and give you a sense of satisfaction.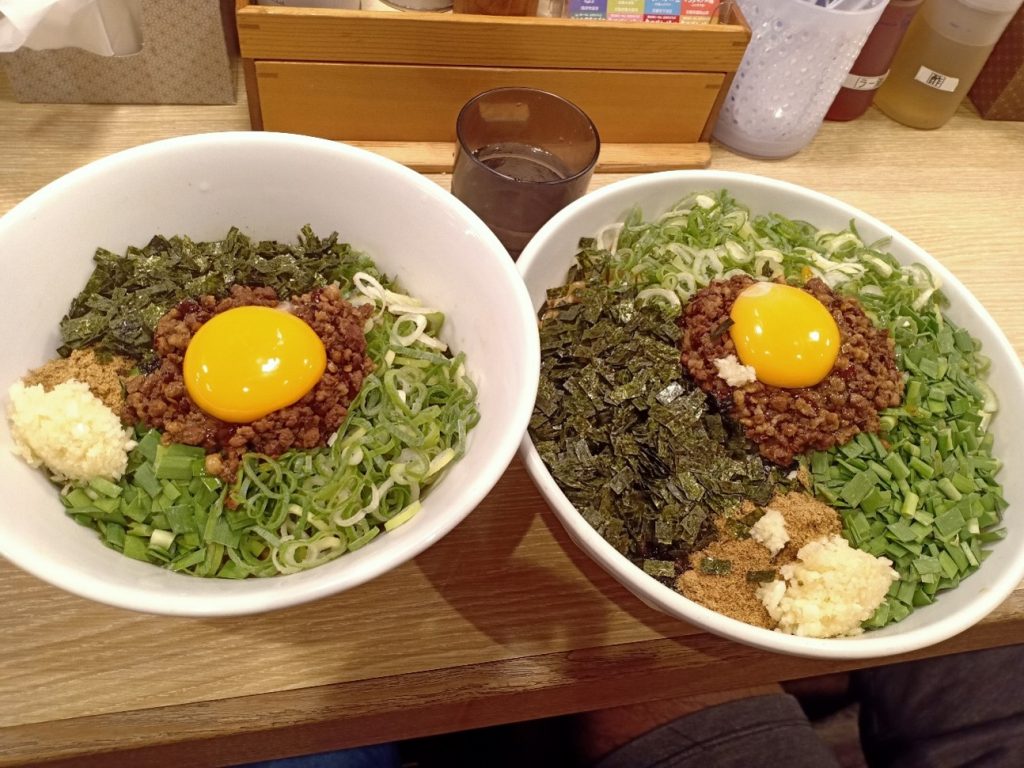 4.Akutagawa
Maps: https://goo.gl/maps/uo7SYvG1DzCUwfpA9
When I asked three of my classmates for the famous ramen restaurant near Kyoto university, two of them recommended Akutagawa. This place is somewhat similar to Kirameki in terms of waiting time. I never can get a seat outright. Most people order charsiu ramen but I always select regular ramen with fried pork. The ramen bowl is garnished with spinach and seaweed. The creamy pork bone soy sauce broth blends well with the chewy noodles. There are many spices and tsukemono such as pickled bean sprouts on the table and chili paste. The firmness of the noodles and the flavor of the broth can be customized to your taste. Be aware that the regular flavor of the soup is already salty. I would say the customer service of Akutagawa is the best. The female staff tried to help me out enthusiastically at the vending machine and introduced the most popular ramen they have. In additional you can eat rice as much as you can for 50 yen. In order to have a filling meal just for 750 yen (700 yen for regular ramen and 50 yen for rice), this is a place to go!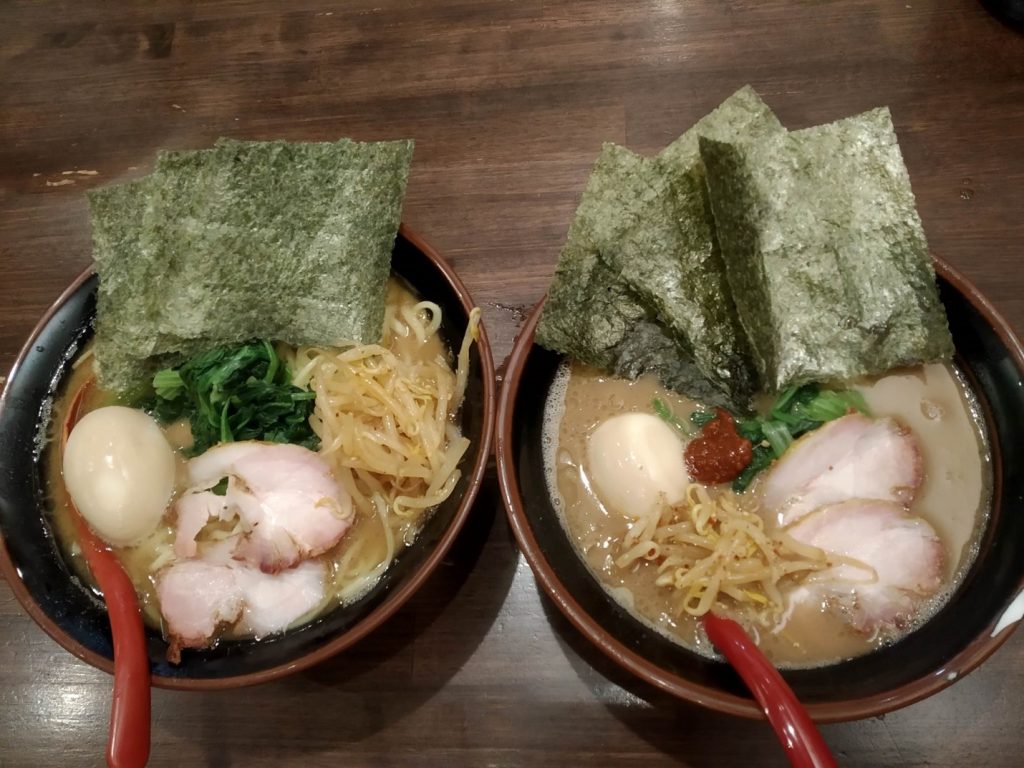 5.Nibojiro
Maps: https://goo.gl/maps/Az3HRdYgZHUKhWBj8
There are many reasons why this restaurant is hailed as the best Jiro Ramen restaurant in the area. Nibojiro is famous for its Jiro Ramen with anchovy-based cloudy broth rich in floating oil and salt. If you order Niboshi ramen, you will get a bowl with dry anchovies are sprinkled on top of the bean sprout heap which enhance the strong odor of the ramen. The noodles are quite thick and firm. It may seem quaint to have ramen with fish but it is worth trying. However, the broth is oversalted to me. If the saltiness is toned down a bit, it would be perfect. To combat with salt, you can try adding some vinegar to the broth. It may sound counterintuitive but acid can cancel out the salty taste. The charsiu is so well marinated and tender. I often order Jiro Mazesoba without broth and dry anchovies since I can't put up with their "stinky" smell. Be aware of the smell! It might cause you chuck up if you are weak to fishy odor.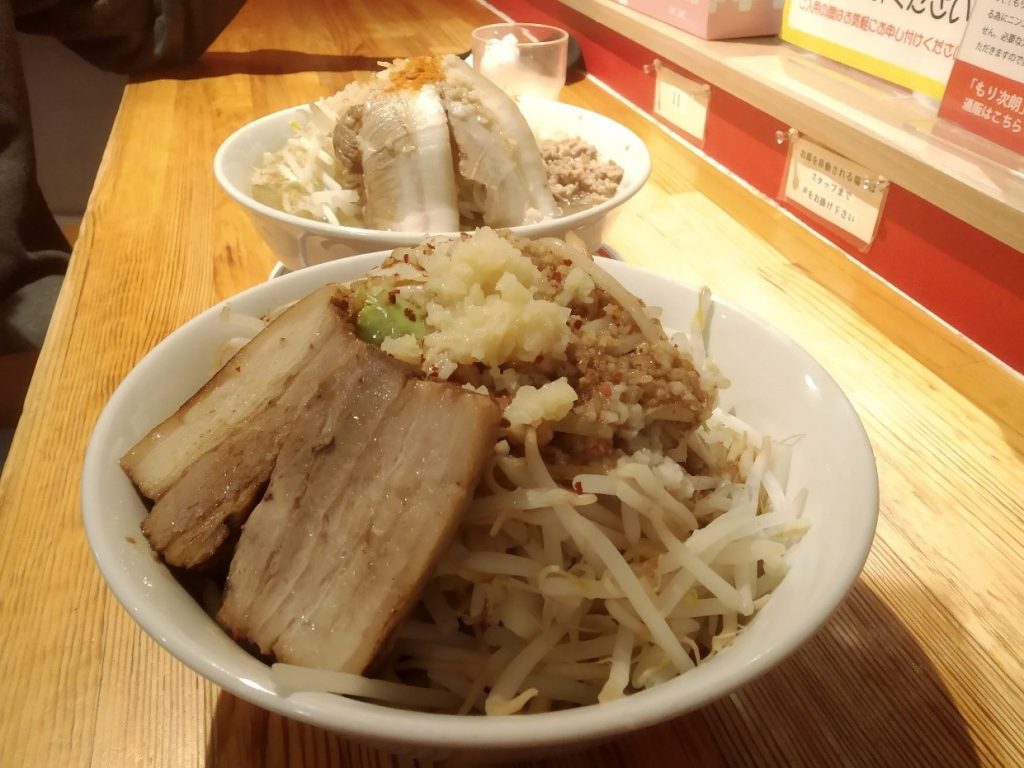 6.Masutani
Maps: https://goo.gl/maps/qM2B3JbbVwEZDhi2A
This local restaurant is tucked away from the main road. It is located along the Philosophy Path near Ginkakuji. Whenever I pass by it, the strong smell always makes my mouth water. The pork and soy sauce-based broth is just right to my taste: not too oily and oversalted. When I had my first slurp I realized that it was abundant in umami flavor. The portion is a bit less than other shops but the price is cheaper. It is opened until 7pm and closed on Mondays. English menu is also available. The staff will never let your glass be out of water. It is frequently crammed in lunch time so it is better to avoid this peak hour. I am not a fan of soy sauce based broth but Masutani ramen has a distinctly deep flavor that invites me to revisit the restaurant again and again. The minus point of this restaurant is the charsiu meat. Very thin slices of meat are placed in the ramen bowl, which does not give any fulfilling sense at all. You can finish all the meat with just one bite. It goes without saying how dissatisfied it is to eat noodles without meat.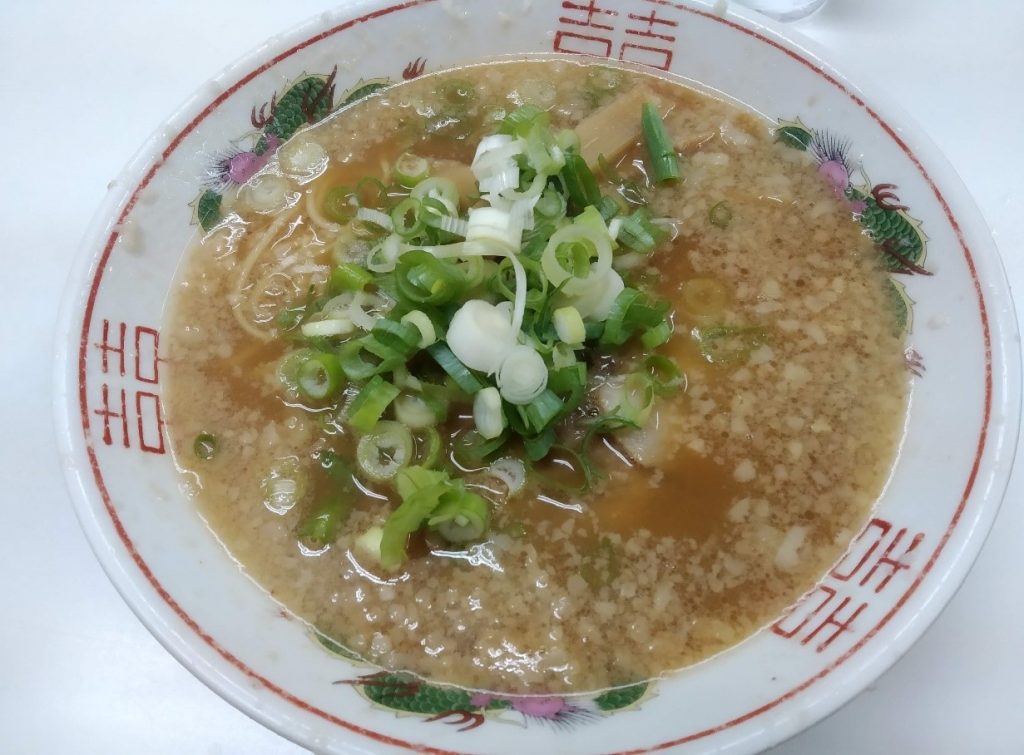 7.Tenkaiippin Ginkakuji
Maps: https://goo.gl/maps/CqHpQNHh13muDXhL8
Tenkaippin is a famed ramen restaurant chain in Kyoto whose flagship store is located near Ichijouji station. Many foreign tourists frequent the main store, meanwhile local residents prefer the Ginkakuji branch restaurant because they serve obviously tastier broth here. Kotteri thick broth is made from chicken and vegetable which is rich in collagen. The broth is intensely savory; however, it was so creamy and viscous that looked like pasta immersed in tomato sauce. There is also plainer type of ramen with transparent chicken bone based broth (Chuka Soba). If you are not a fan of salty soup, undersalted ramen is available. When they brought the ramen bowl to me, it was kind of cooling down, not boiling hot as expected. Students can get a 50 yen discount by showing their student cards at the cashier counter. Tenkaiippin checks all the boxes of student-friendly ramen chain restaurant.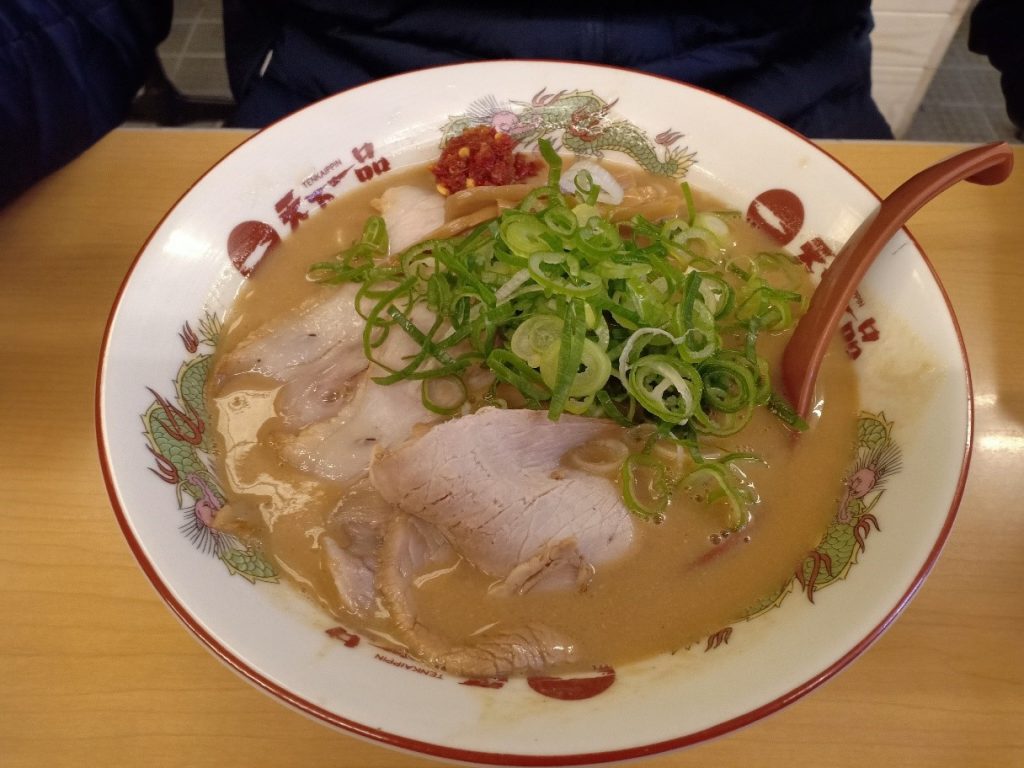 This is not the end of the ramen restaurants list around Kyoto university. There are more and more local ramen shops out there to discover. Please comment and let us know where your favorite ramen restaurant is and your reviews as well! If you know somewhere hidden and tasty, don't hesitate to share with us!