Wandering in Kyoto backstreets in an autumn evening, I bumped into a big wooden house that is tucked away in a narrow road and looks somewhat more dignified and enclosed than other houses in the area. The signboard in the frontage is written "Kawai Kanjiro's Memorial House". I thought this was probably a famed person's residence so I decided to visit and explore what is inside this memorial house.
Located in a tranquil backstreet having a long-standing history of pottery and ceramic art in Gojozaka area, Higashiyama ward of Kyoto, Kawai Kajiro's Memorial House is a two-story wooden house which was first designed and built in 1937 by master Kawai Kanjiro, who is well-known around Japan as an accomplished potter, sculptor, poet as well as a genuine calligrapher. He is one of the leaders of the folk art movement (民芸) that attempted to awake the moribund craft technique resulting from industrialized mass production. The house has been preserved for years by his family and restored to become a museum where many of Kawai's unique pottery and ceramics masterpieces are artfully displayed to attract visitors. The house is said to be a profound reflection of Kanjiro's spirit and personality.
History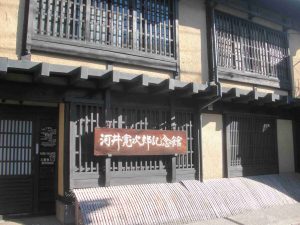 The house served not only as Kanjiro's residence for 46 years, but also as his factory where he devoted his whole life to create distinctive handcrafted works. He was particular about his lifestyle and strongly believed that "life is work and work is life". His house resembles the classic Japanese rural cottages from the Hida-Takayama area (Kanazawa 2014). It was constructed with the assistance of his elder brother from Shimane prefecture, who is also a skillful carpenter. The eaveless roof and house design differ remarkably from other traditional houses found in Kyoto, in which the second floor sticks out from the edge of the first floor (Yuuichi 2005). The frontage of the house demonstrates a Japanese traditional architectural style called Tsumairi with the main entrance gate on one of the gabled sides. The sturdy house is now a blend of modern building and traditional look. After Kanjiro's death in 1966, the house was converted into a memorial museum run by his family.
Walkthrough
Along the narrow corridor leading to the central room, I noticed many wall built-in wooden drawers, which on the other side, surprisingly transform into a unique staircase leading to the second floor. On the first floor, there are two Japanese styled rooms in the front and two rooms at the back which are now used as gallery spaces where Kanjiro's wooden objects are showcased. The large central room serves as living room full of wooden tables and chairs, commodes and other aesthetic elements designed by Kawai Kanjiro such as mounted hanging scroll (kakejiku) and ceramic art works. It is a harmonious hybrid of Japanese and Western styled elements and furniture. The tatami mats, shoji-sliding doors, dark patinated floors and open fireplace are Japanese style, meanwhile enigmatic sculptures of hands, cats, dogs and open space atrium are somewhat western-influenced. One part of the joist ceiling serves as the atrium-a rectangular open patio in the center around which a house is built, and faces second floor.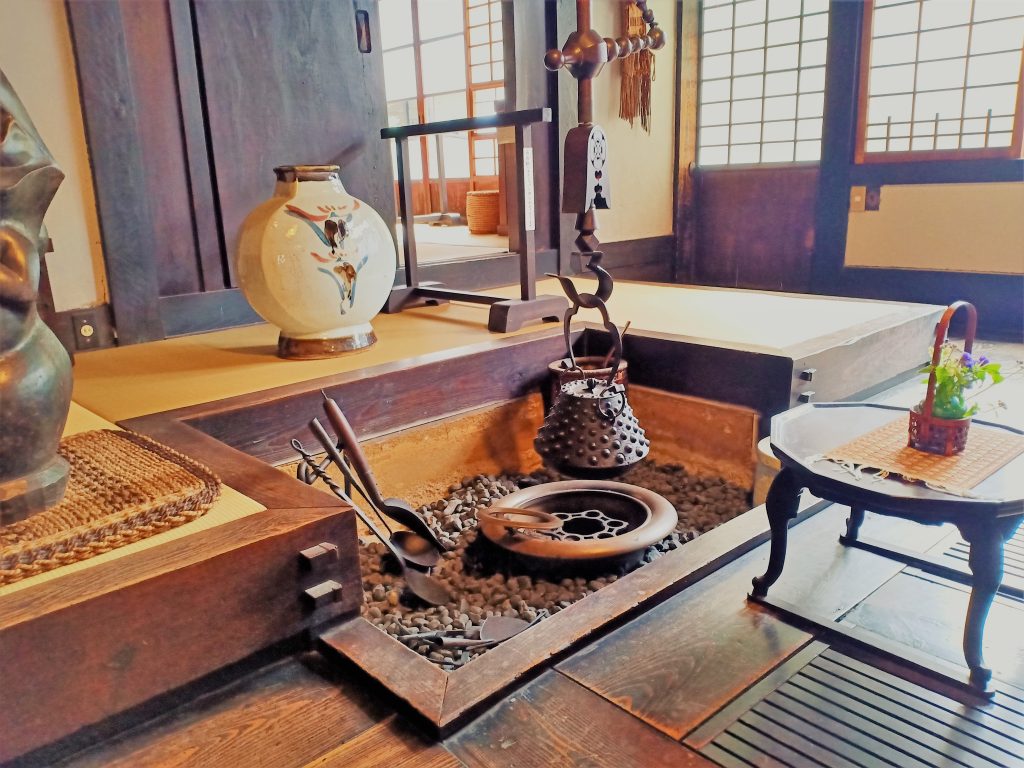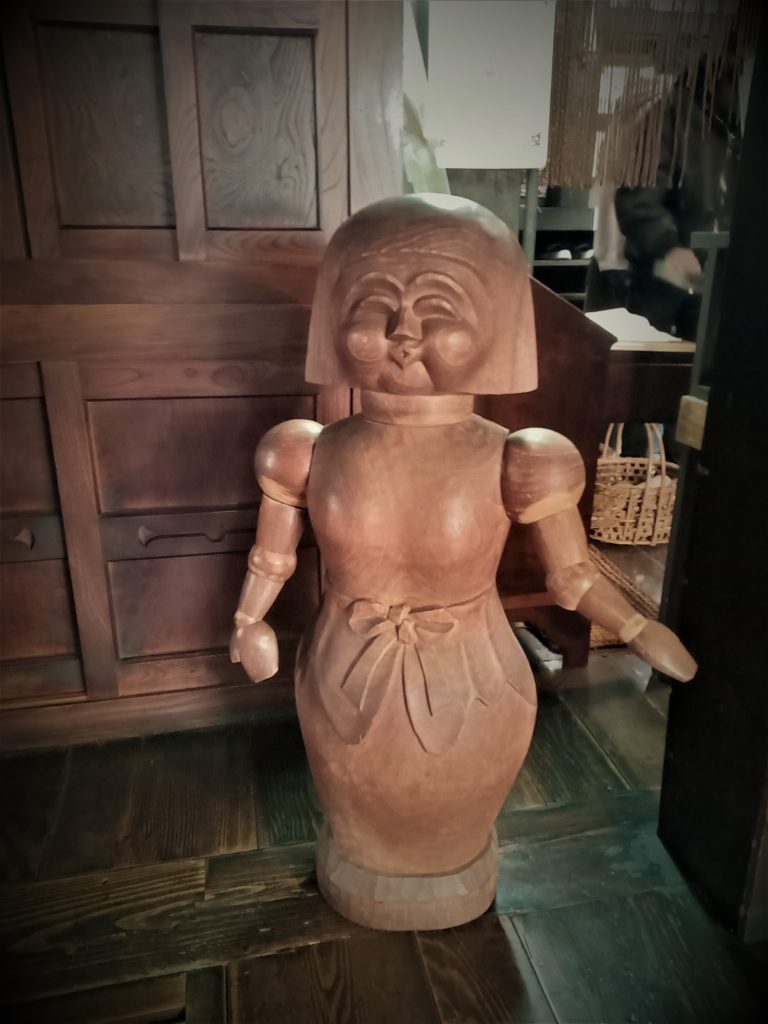 The upper floor comprises one room in the front and two rooms in the back. They are sitting room, guest room and study room. Each room is furnished with tatami mats, alcoves, commodes, desks and flower vases, which is a typical room design in traditional Japanese houses. The beauty of rustic furniture consists in their boldness and simplicity, through which master Kanjiro attempted to convey to people the true meaning of folk art. The flower decorating looks somewhat contrived when it is isolated from the background but appealing when it is submerged in the simple and minimalist layout of the house. The peacefulness of the house invited me to linger and contemplate his creativity. Sitting comfortably in a sturdy chair and looking outside, I felt the ease in my mind and thought one day I would build a similar house to enjoy my life. The warm and welcoming atmosphere in this cold weather made me feel free like at home. Time seemed to be frozen while I was reading the books about folk art that pile up on the desk in the central room.
The rear of the main room opens to a verdant courtyard garden, which is surrounded by earthen floor and veranda where many of Kanjiro's art works are displayed inside glass showcase. The garden provides a green landscape and refreshing air to the house. Most of the ceramic pots inside the showcase are colorful and have quaint shapes. His books and glazing tools are neatly arrayed. As I walk along the hall, I imagined master Kanjiro's concentrated face while shaping his objects on a pottery wheel. The display hall leads to the main studio which preserve massive amount of Kanjiro's works resulting from his experiments on glazing techniques. Although I am not a pottery enthusiast, I kept walking back and forth staring at those objects and wondering why he made them in these weird shapes. Being obsessed by the idea of unpretentiousness, none of the objects has Kanjiro's signature. He once wrote in his book "My work itself is the best signature" (Belyea 2018). His humbleness is clearly proved by the minimalism of his home and his genuine works.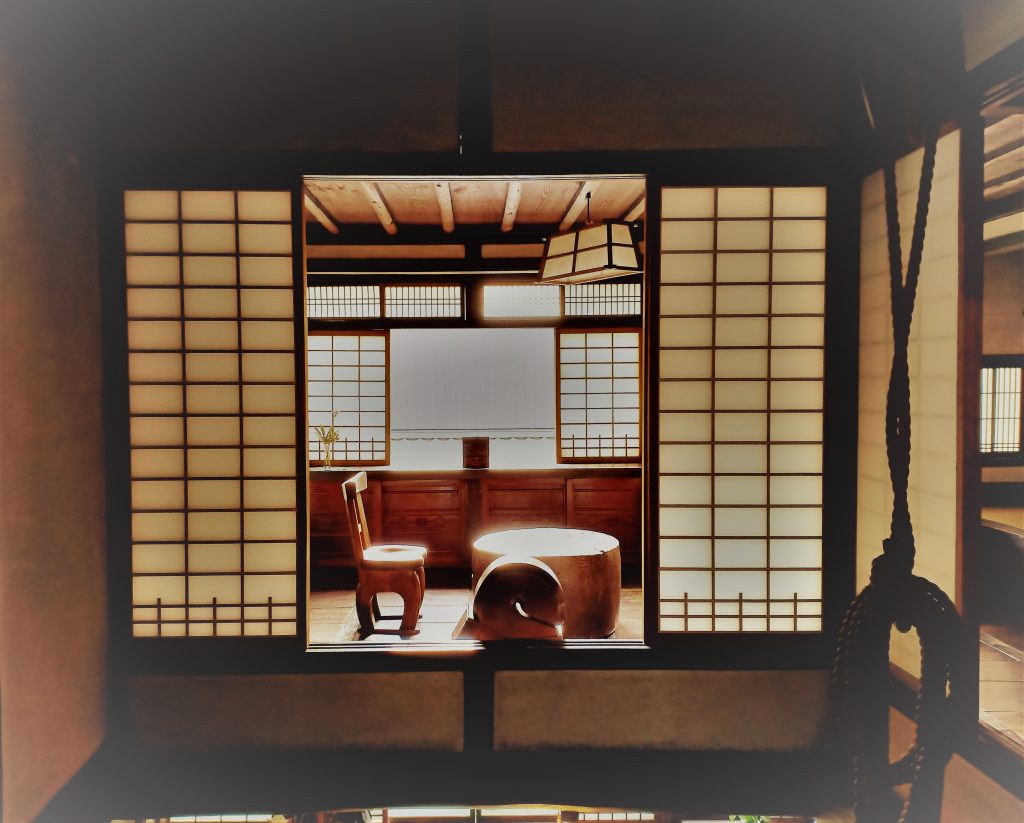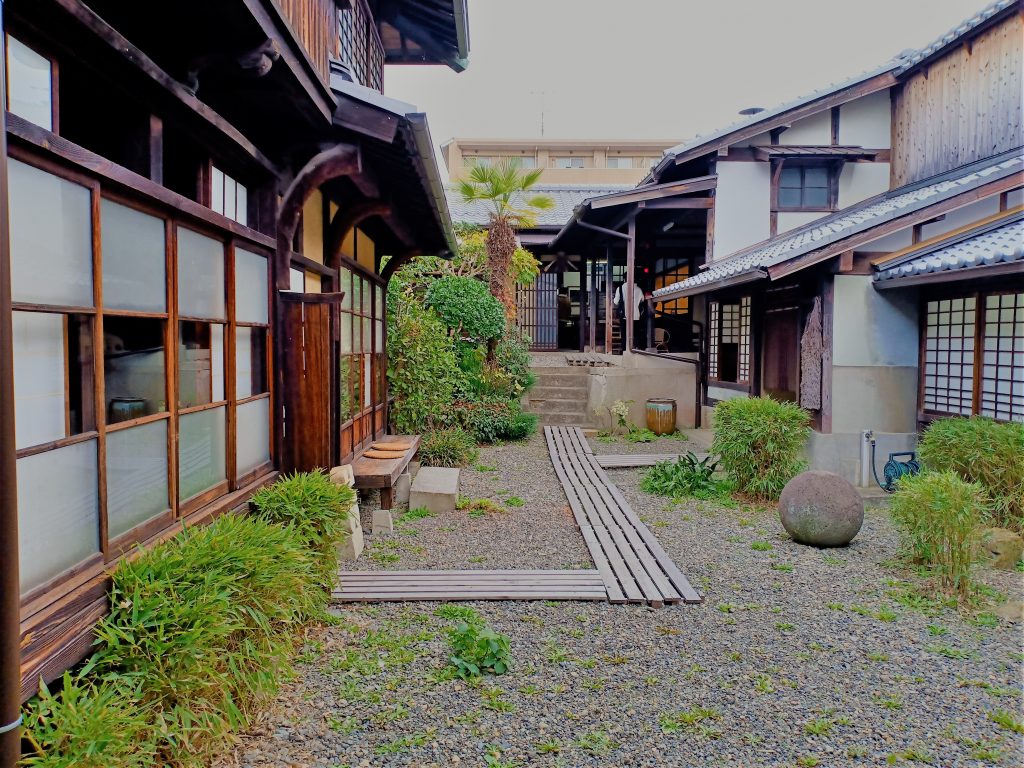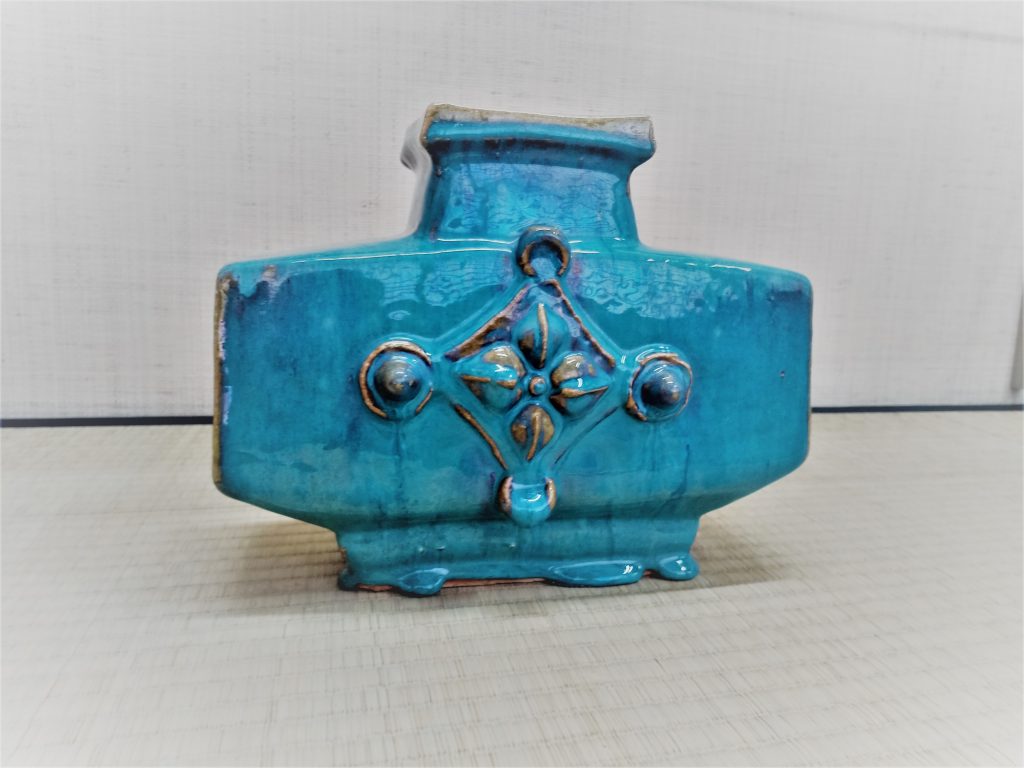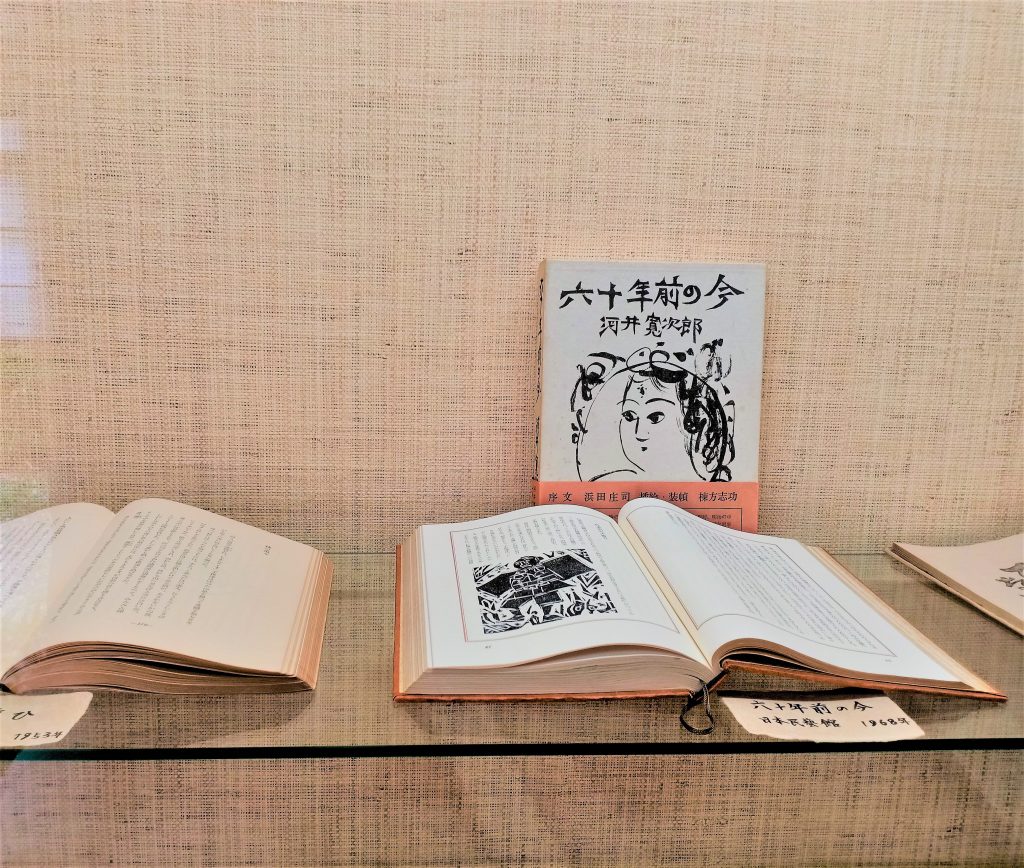 Perhaps the most attractive section of the entire house is the climbing kiln looming large behind the studio. It consists of total six consecutive chambers on a gentle slope. It is much huger than normal kilns. The kiln was used to heat up clay materials to 1350 degree Celcius to cause chemical reactions that permanently harden the clay. Each fire requires around 40 kg of wood. It is said that the products will have different finishing looks depending on the position they are placed inside the kiln. I am curious about the drooping ropes strung across the frontage of the kiln and the shrine near the kiln. I think he probably believed that God helps to produce high quality products.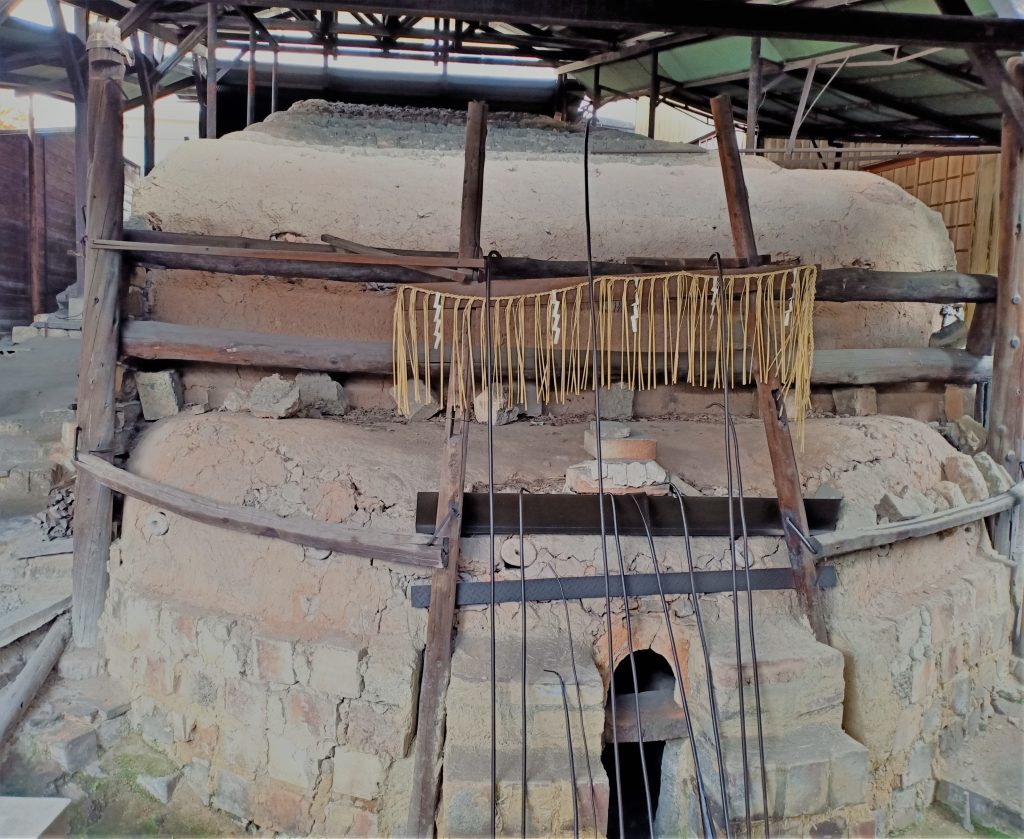 This is not the only kiln in his home. There is another one but smaller facing the garden used for unglazed pottery. The back of the house was turned into his own unique atelier where he spent his whole life creating highly valuable artworks. The more I hang around his home, the more I appreciate the outstanding craft objects that he dedicated to. His home is also one of his distinctive products that remains until today that embodies his noble soul and severity.
Bibliography
https://i2.wp.com/okunotakashi.jp/wp2/wp-content/uploads2/2018/03/05.jpg?ssl=1. Accessed on Dec 2nd, 2020
Belyea, Patricia. 2018. Home and studio of kawai kanjiro. April 6. Accessed 12 5, 2020. https://okanarts.com/blogs/blog/kawai-kanjiro.
Kanazawa, Ai. 2014. Beyond the Object: Visiting Kawai Kanjiro's House in Kyoto. December 30. Accessed 12 4, 2020. https://www.entoten.com/2014/12/30/beyond-object-visiting-kawai-kanjiros-house-kyoto/.
Yuuichi, Ishikawa. 2005. Kawai Kanjiro, Miyaji Yoneyo, Mingei Movement, Architecture influenced by Mingei Movement. Osaka: Osaka University.
Aika. 2020. Kanjiro Kawai – A Kyoto Sanctuary in Demanding Times. May 13. Accessed 12 5, 2020. https://taiken.co/single/kanjiro-kawai-a-kyoto-sanctuary-in-demanding-times/
Thomas, Danielle. 2017. Houses and gardens of Kyoto. 187-189. Tokyo: Tuttle.