Let's get away and go rafting in Kyoto!
Most of tourists are on a very tight schedule when they visit Japan. They usually spend one or two days in Kyoto and Osaka exploring the busiest destinations and local food. There is no leisure time for hidden spots or sport activities.
On the other hands, sport activities in Japan are often not on the to-do list. The reason is explicable. It costs a pretty penny to experience outdoor activities in Japan, especially extreme ones such as paragliding and bungee jumping.
However, there is one activity with a fair price that you can enjoy in Kyoto for just half a day! With less than 5000 yen, you can swim, you can raft, you can jump from the cliff… Yes, I'm talking about rafting! No matter if you are a foreign tourist or a resident, you can definitely try this.
Let's take a break from work and studying, get away to the river and submerge yourself in the fresh cool water. That would be a blissful moment of your trip! Slow down your travel and go rafting in Kyoto!
What is rafting?
Rafting at first glance seems like canoeing or sailing a boat. But it has a few different features. Rafting is a water entertainment activity which use an inflatable boat and unsinkable paddles whose function is to navigate the downstream.
The sport is often done by a team rather than solo, which requires a great deal of teamwork to direct the team towards the final goal. In a rafting tour, you will be accompanied by a professional rafting guide.
Rafting was once considered an extreme sport which occasionally can be fatal due to the violent river stream, but most rafting tours are operated in calm and safe whitewater so that even beginners and kids can also participate in and be filled with joy.
The guide is the leader of your team who usually sitting at the stern of the boat and control its direction as well as the speed. Your task is to follow his/her instructions to propel the boat forward with your paddles, keep the boat from crashing against rocks and not let yourself fall into the river.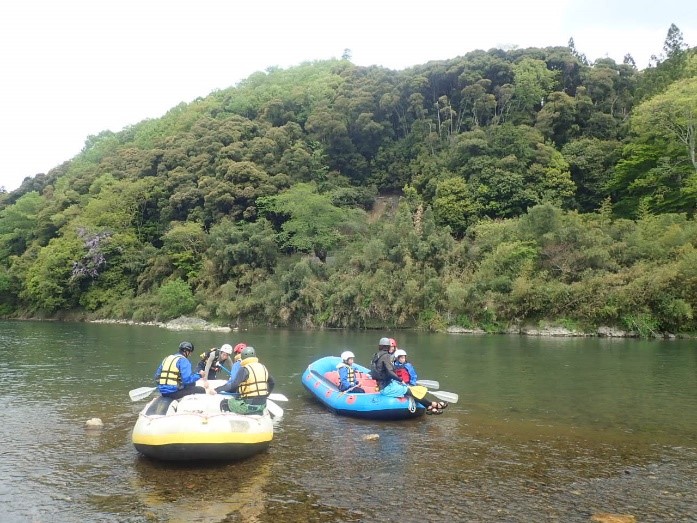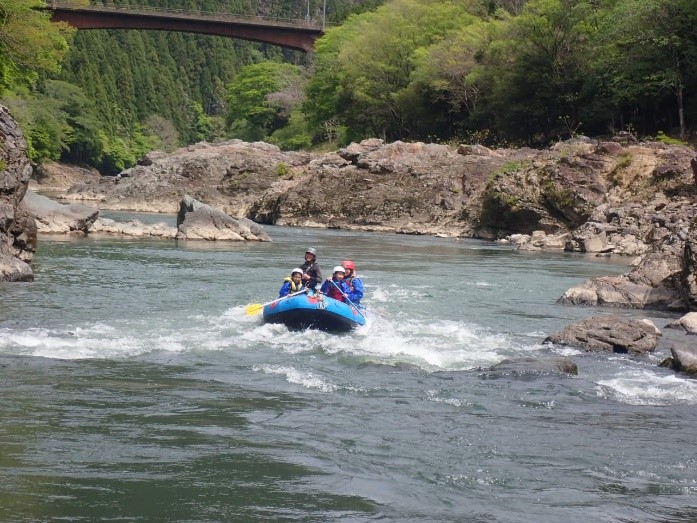 Rafting in Kyoto
All rafting tours in Kyoto take place in Hozugawa River in Kameoka City, only 20 minutes by train from Kyoto City. The river stretches along Kyoto to the famous tourist destination Arashiyama (maybe you have heard about Arashiyama bamboo forest).
The scenery is abundant in wildlife (you can even see monkey bounce back and forth between trees) and beautiful flowers in all four seasons, especially in autumn, the area is smothered with colorful autumn foliage straddling the river.
The raft took us around 2.5 hours for a 5 km distance. We floated down from Kameoka station to Arashiyama then took the train back to Kameoka station while still being wet and getting our wet suit on.
You will probably see Kyoto Torokko sightseeing train (Sagano scenic railway) running along the river. There are many rafting companies that you can pick.
Their prices are comparatively the same. We booked a tour from Kira company with a coupon discount from jalan.net website. This website is very useful if you know a little Japanese. They offer a wide range discounts for outdoor sports as well as hotels and experiences in Japan.
The tour costed us 3500 yen for each person with wet suit, helmet and life jacket included. Extra 300 yen is required in case you need to rent shoes. Shoes that are loose and easy to slip off your feet such as slippers and flip-flop are not allowed for the raft. You'd better wear sandals or lightweight sneakers.
Commonly, companies will have two rafting tour schedules: one in the morning starting at 9 am and one in the afternoon starting at 2 pm. If you want to spend half day exploring Kyoto then the morning tour is recommended.
We gathered at the meeting point at 9am. After checking in, the tour guides introduced themselves and explain the safety instruction and insurance conditions (which clearly states that the insurance will cover all medical treatments in case of accident occurred during the raft except for the one resulting from cliff jumping). There is one thing to keep in mind: hold your paddles tightly by two hands. Most of the accidents happened as the paddle hit your face.
At 9.30 am, we got our wet suit on in a changing room (you should wear a layer of swimming suit inside) then our life jacket and helmet. Take off your glasses or have it tied to your ears. Be sure to double check that your life vest is securely fastened! It's time to get down to the raft!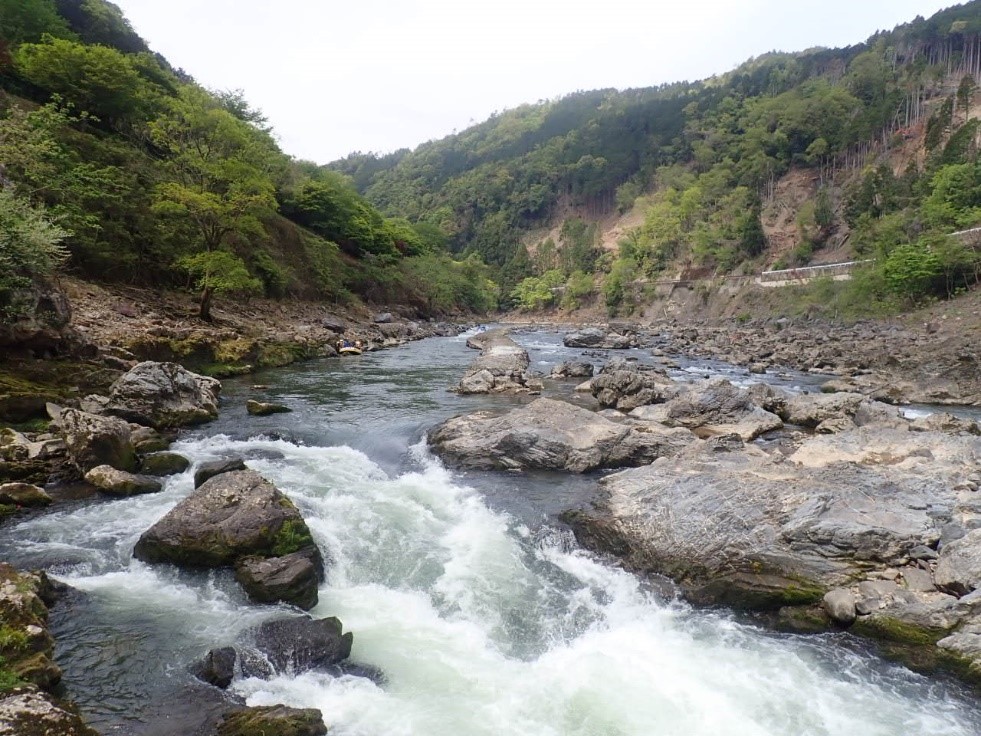 We walked for about 10 minutes to the starting point where boats were waiting for us. We practiced paddling for a few minutes before embarking on our adventure.
The trip started on a calm current and we encountered our first rapid just 2 minutes later. There are around 20 rapids along the river to pass through.
The most important point is to paddle in sync to navigate your boat and maintain its stability. If one holds up the paddling while others don't, the boat is bound to be diverted and start to rotate.
While passing the rapids, we were asked to bend down and cocoon our paddles with hands grabbing hold of the rope tightly so that the paddles would not batter at us and we would not fall out of the boat into the current.
The guide will be the hero to handle the rapid and lead us through the flow. In the worst case you fall into the water, of course you will be downright panic and frightened, but always keep your legs at the surface of the water to reduce the risk of getting stuck by the reef, logs, etc. or being tangled up by water plants.
Any attempt to stand up in the water may cause foot entrapment which is very dangerous since you got trapped at one place and the current keeps pushing your upper part and your head down underwater, which causing drowning and your life vest is no help. Keep your feet up, lie on your back and facing the downstream is all you need to do.
Let's the current sweep you away. Your guide will be right there to attend to you. Your life vest helps buoy you up but you probably breath in more water the more panicky you are.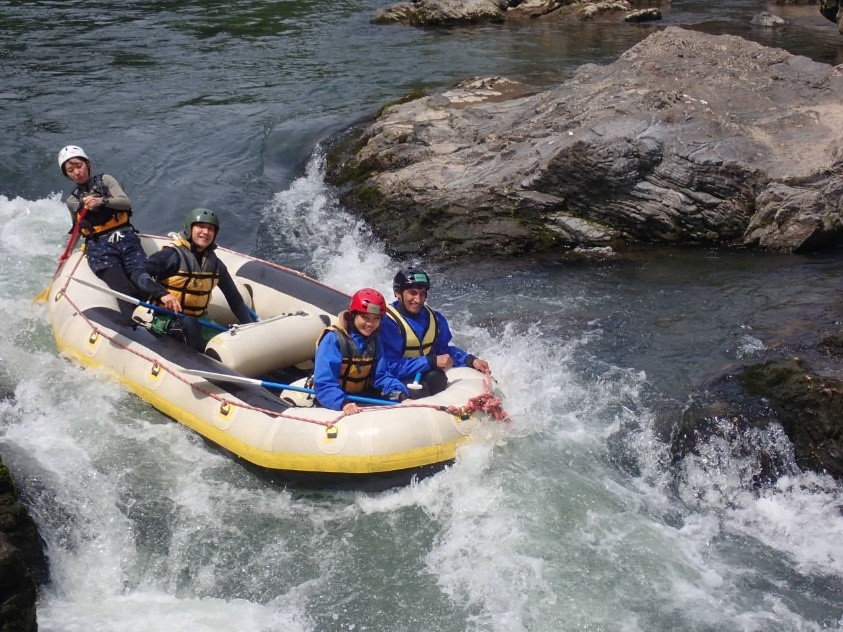 My guide told me that the chance you got pulled out of the boat is 0.00000001%. No need to worry, you cannot control the flow. What you need to do is simply to hold the rope on the side of the boat tight, bend down, laugh and enjoy every turn the rapids throw at you! Your guide will handle the rest for you.
After a while, we reached a serene "pool" where we jumped out of our boat and enjoyed swimming in the cool water. It looks like a natural pond, no fish, no plants, just the clear water.
Our guide taught us how to play see-saw with our boat and consequently, my energetic friend plunged into the water for playing too hard 😊 What really stirred me up is my first ever thrilling jump from 3m cliff into the river.
To be honest, I was scared because the insurance does not cover this activity, because I'm kind of having acrophobia. If anything had gone wrong with this jump, I would have been screwed up. It was only 3 seconds from the cliff to the water surface, I closed up my eyes, holding my breath and feeling the "non-gravity".
Not until the moment I landed on the water on my butt, splash out a great amount of water to my partner did I felt a painful hurt in it.
I leaped off the cliff in a wrong posture curling up my legs. It should be straight, upright vertical posture for tombstoning. Cliff jumping maybe a luxury I no longer can afford. It freaked me out, frankly. Of course, you will not be jumping into the unknown.
The water depth is safe enough with no unanticipated rocks lying beneath the water. If you are sort of reckless, you are good to go. I'm just a weak and fragile girl but I somehow made it!😊
Rafting is a truly exhilarating experience you should try once. It is like going through lows and highs in your life when you raft through rapids and calm flows. Our trip ended at 2 pm, which means that we still had half day to explore Kyoto. And that is enough for exploring some popular destinations in Kyoto.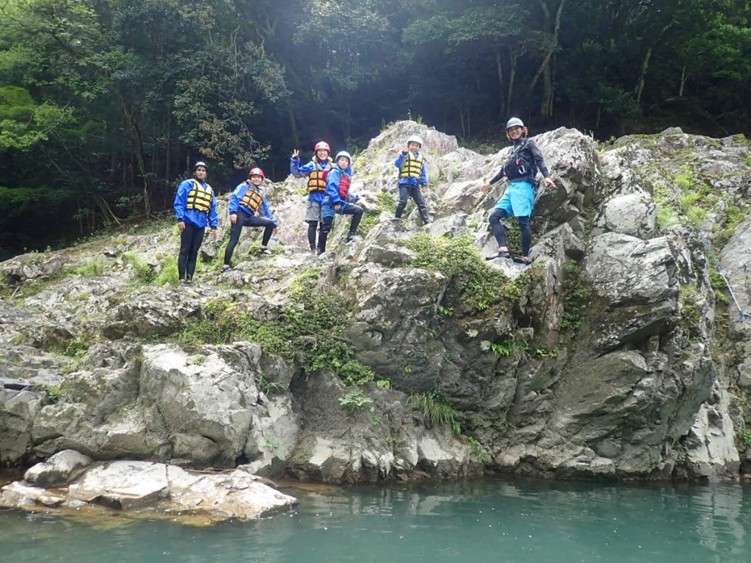 What to prepare in advance?
-Remember to bring towels to dry your hair
-Plastic bags for dirty clothes
-Waterproof camera if you have one, otherwise you can pay 1000 yen to get your photos during the raft
-Swimming suit or lightweight clothes to wear as an inner layer
-Suitable shoes for rafting (not sandals not flip-flop)
-Most importantly, be in good mood for the raft