"A SERIES OF PRO-PALESTINIAN EVENTS FROM MAY 14 TO MAY 21 IN TOKYO"
By Salah Aldin Falioun


Many people recently were devastated to see the tragedies of war in Palestine.
Recent developments that snowballed into a war started very early on in Ramadan, here's a brief background to understand what was going on.

RAMADAN, AL-AQSA, AND "DAMASCUS GATE"
Israelis started limiting access of Palestinian Muslims to Al-Aqsa Mosque at the very beginning of the holy month where Muslims usually have a congregational evening prayer called "Tarawih". (This year Ramadan lasted from April 13 to May 12)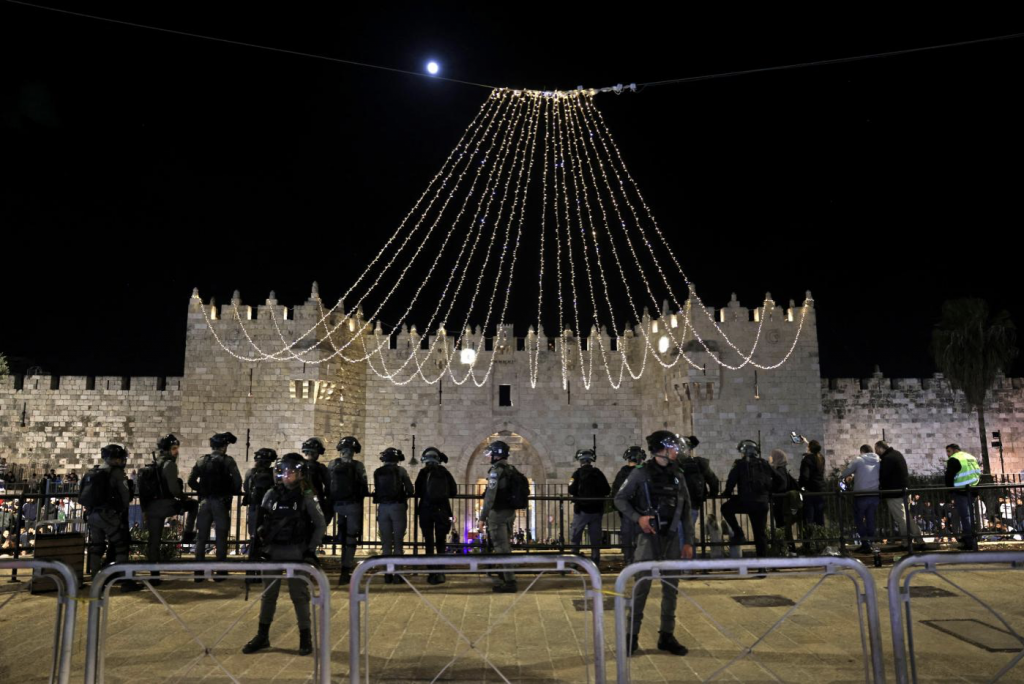 Palestinians started then protesting against these restrictions, and Israeli forces arrested many activists that tried to remove the barricades that were restricting their access; while giving a green light to Far-right Israeli settlers that were attacking Palestinians, and breaking into Al-Aqsa courtyard. The escalation peaked on April 23 due to mass assaults by the Israeli occupation forces (IOF) and settlers against the Palestinian civilians in hit-and-run clashes, which continued for 9 hours mainly at Bab al-'Amoud (Damascus Gate, one of East Jerusalem's Old City gates). As a result, 105 civilians were injured and 50 others were arrested, including 4 children. Eventually, Israeli forces withdrew from the Damascus Gate area on April 25, but never stopped to attack Palestinians, these efforts of restrictions were -according to an expert- to prepare for the Jewish Celebration of "Jerusalem Day". (Middle East Eye)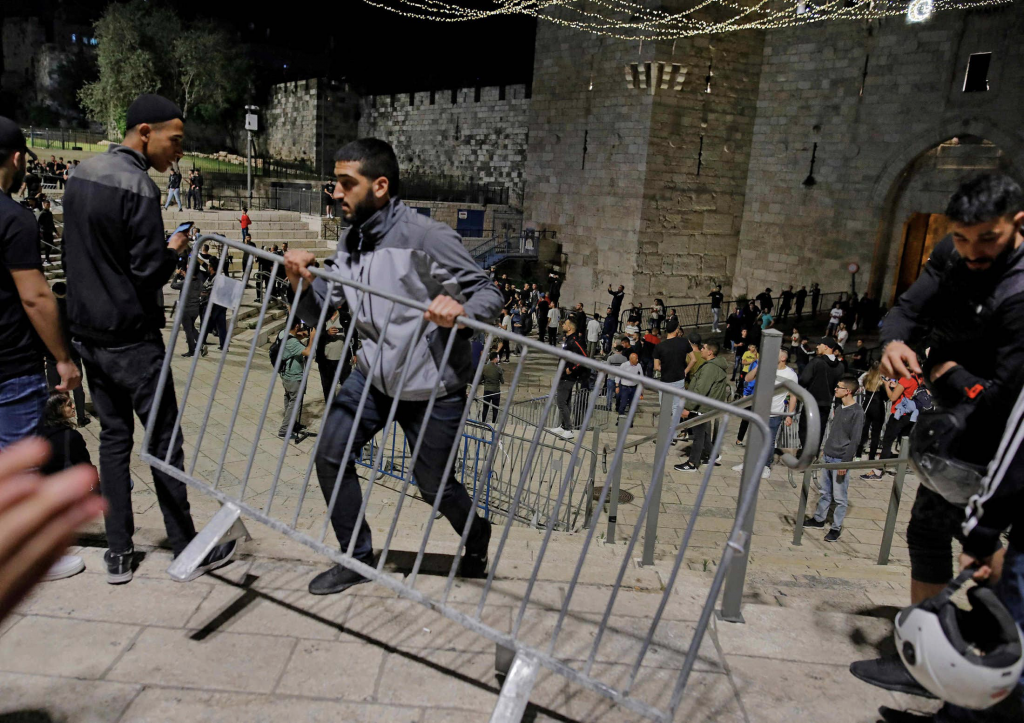 Meanwhile, other atrocities were taking place in a different part of the city.

SHEIKH JARRAH NEIGHBORHOOD
The East-Jerusalemite neighborhood "Sheikh Jarrah" was about to witness the possibility of evicting its Palestinian residents that have been living there since 1956 due to an expected Israeli court decision. This event spiked international condemnation, and a protest by Palestinians was held on May 5 which was met with brutality from Israeli forces that left 22 Palestinians injured. The decision of the court was then postponed.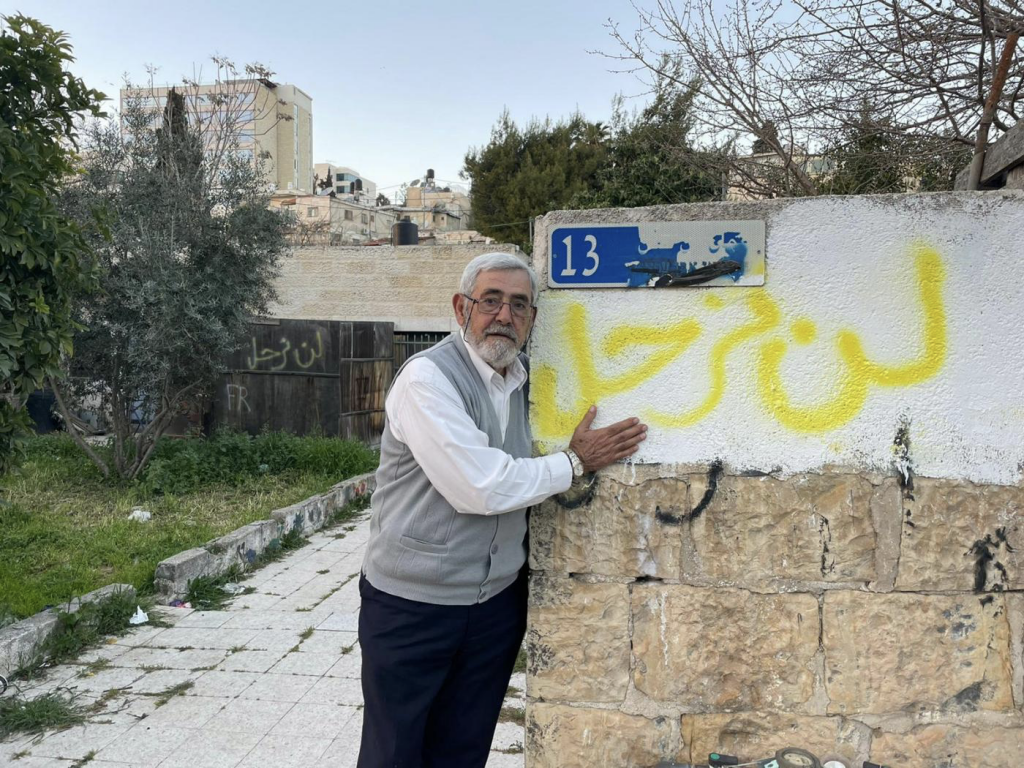 AL-AQSA MOSQUE AGAIN
A key point to understand here is the importance of Al-Aqsa Mosque; it's the third holiest place for almost 2 billion Muslims right after the holy sites in Mecca and Al-Medina, it's mentioned clearly in the Quran and prophet's teachings.

On May 7, Israeli Police clashed with Palestinians inside the Mosque, not respecting the holiness of the place and the month of Ramadan, neither the holiness of Friday -The special day for Muslims.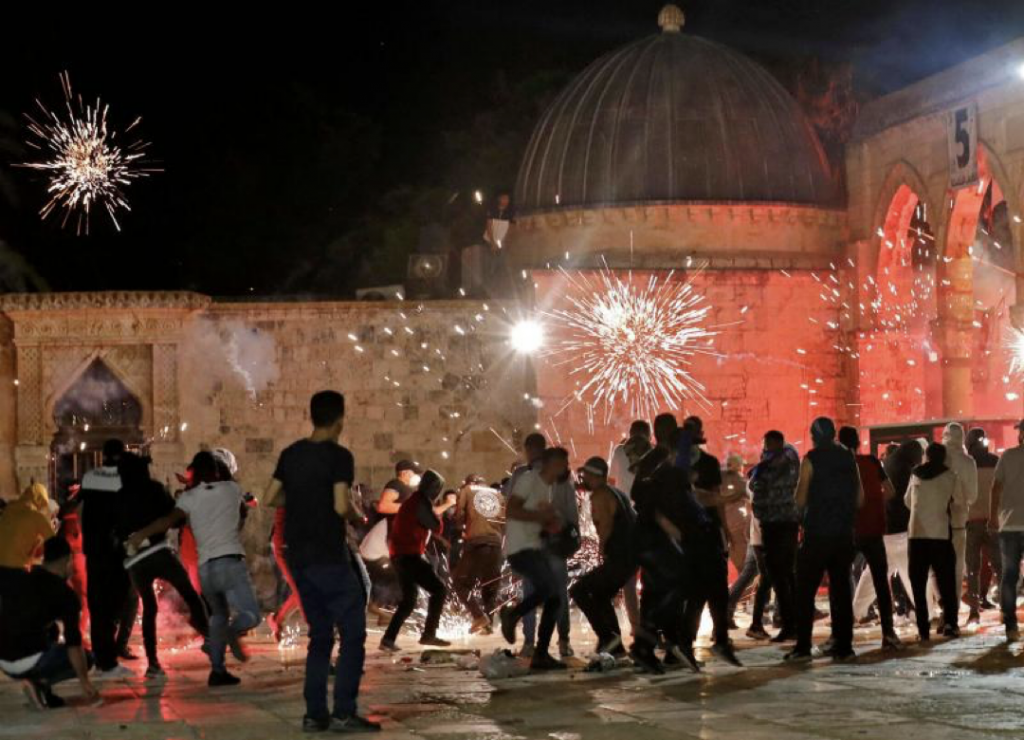 RETALIATIONS BY PALESTINIAN FACTIONS
These atrocities and more, all during the holy month of Ramadan, led to retaliation from Palestinian factions on May 10, launching 6 rockets at Israel.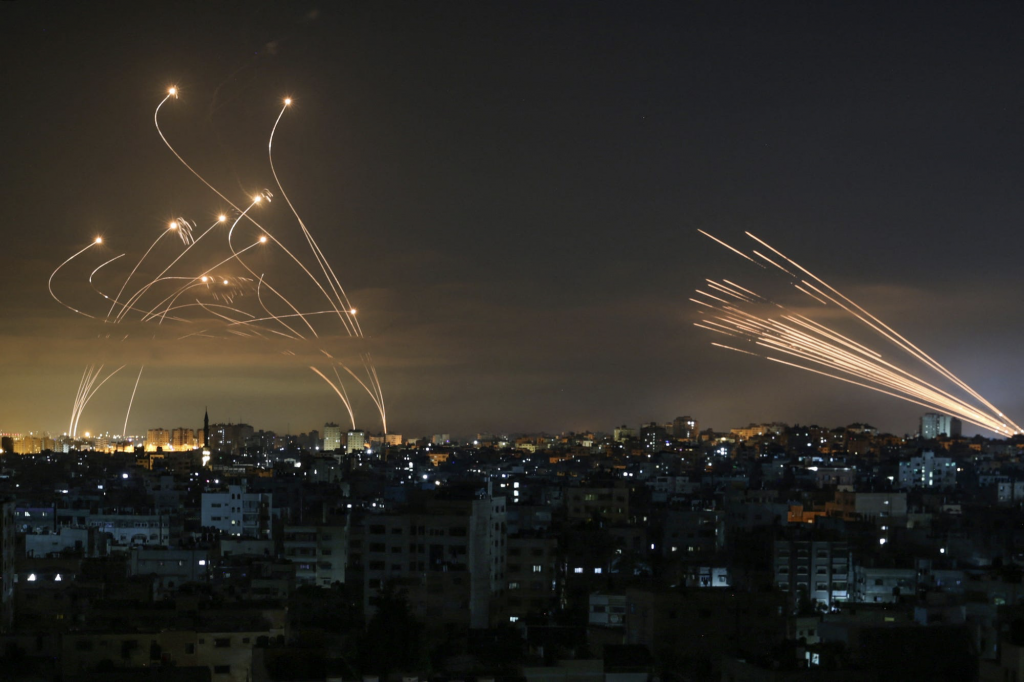 ISRAELI AIRSTRIKES AND BOMBINGS ON GAZA
On May 11, Israel launched massive airstrikes and bombings on Gaza strip, followed by an all-day barrage of rockets from Gaza targeting Israeli cities.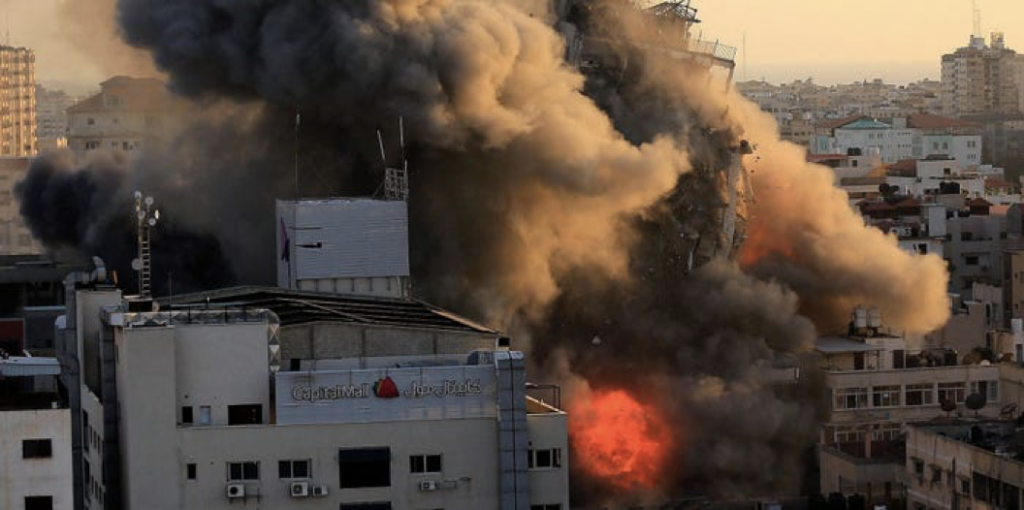 ELSEWHERE IN THE WORLD
So many people from different backgrounds were following up closely these updates, for Muslims also it was very shocking to see these atrocities done during the holy month of Ramadan.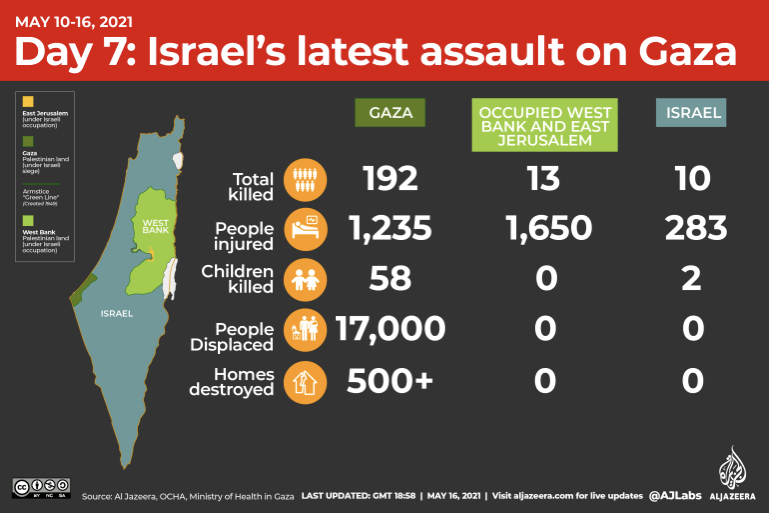 I also was following up closely myself, it gave me anxiety and sleepless nights to know how innocent people and Muslim brothers are suffering on the other side of the globe. I felt very helpless to not be there for them, or at least show more support than posting on social media, and do something for them in an effective way…
I didn't know back then, that this feeling of frustration is soon to be changed…

BY THE END OF RAMADAN IN JAPAN
Towards the end of the holy month of Ramadan (A lunar month where Muslims fast daily from Dawn to Sunset), Muslim Community in Japan got to know that Eid Al-Fitr congregational prayer (Muslim Ceremony after Ramadan) got canceled due to COVID-19 concerns.

Eid Al-Fitr congregational prayer was to be held on Thursday the 13th of May, and the next day by default there would be a Friday congregational prayer. (On May 14)
I checked Tokyo Camii's updates, it's the place where I go for congregational prayers, and there was no announcement about canceling Friday Congregational prayer.
I wasn't pretty sure whether or not it's gonna be held, but I rushed to the nearby train station anyways and started my trip to the mosque.
As soon as I arrived, volunteers and Mosque staff checked my temperature, provided hand gel, and interestingly I saw someone holding flyers that say something about Palestine, but I didn't take it as I wanted to focus on the speech and finding a place to sit. That was the first sign, but I didn't know the content of the flyer.
The Imam (The person who leads Muslims in Prayers) was talking in his speech about the situation in Palestine, and the Importance of Al-Aqsa Mosque to Muslims (the big mosque in Jerusalem, sometimes mistaken for the Dome of Rock Mosque which is a different mosque some meters away).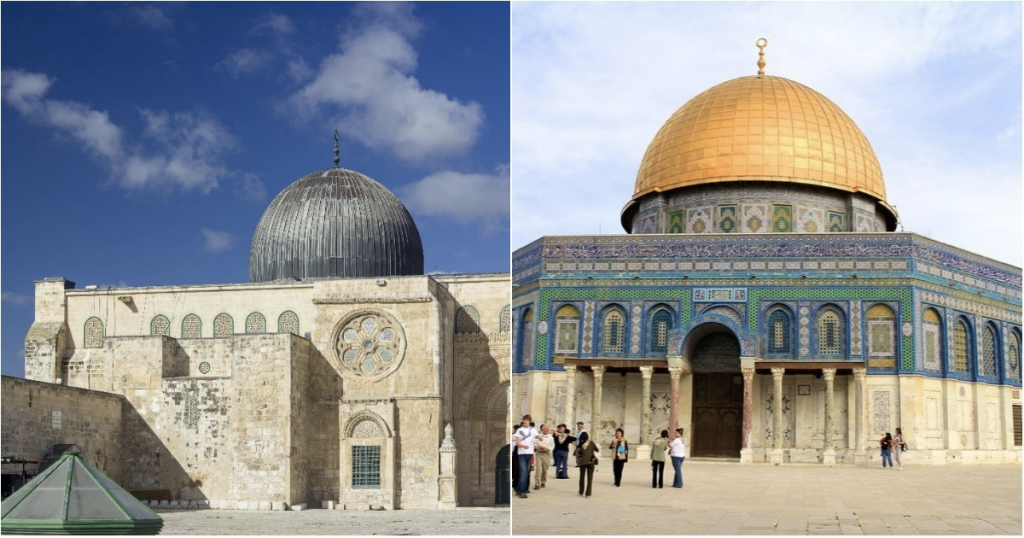 I listened to the speech, then we stood in lines, keeping social distancing to pray "Jumu'ah" (Arabic for "Friday") together.
Soon after we finished our prayer, Imam called us to Pray "Janazah", "Janazah Prayer" is a special prayer that Muslims do in the case of the death of someone, and it's basically to pray to Allah to forgive him/her and accept them in heavens; They usually bring in the dead body to the mosque, and people stand in lines to pray for him/her. Sometimes Muslims also pray "Janazah" for those who died far away as well.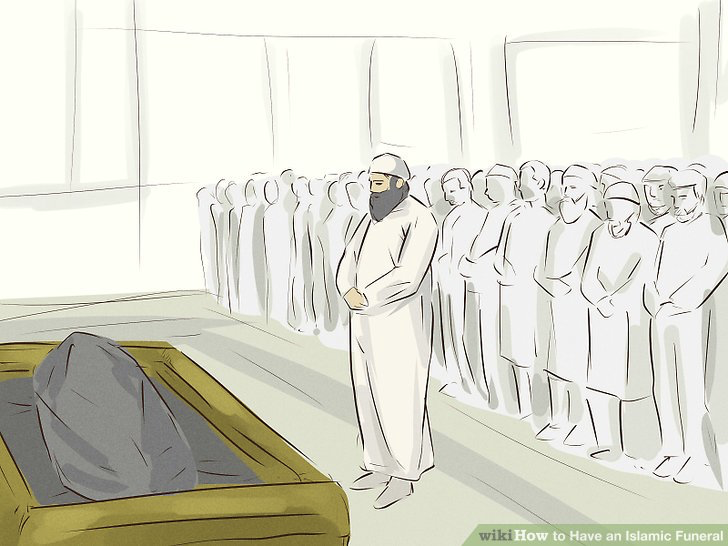 Usually, at Tokyo Camii when a Muslim brother/sister dies, they mention some information about him/her before praying, but this time nothing of that happen, I was also in a different chamber of the mosque where the main mosque space wasn't visible to me, so I couldn't see if there's a dead body or not.
I prayed anyway, but I was still curious about the details.
I headed to the supermarket and congratulated my friends for Eid, and grabbed something to eat and drink, soon I headed out of the mosque to have a very good surprise on the other side of the street…
Many Muslims who just finished prayer joined by non-Muslim supporters were forming a long parade made of rows of 3-4 people down the street; now things started making sense, I figured out the mystery of the flyers.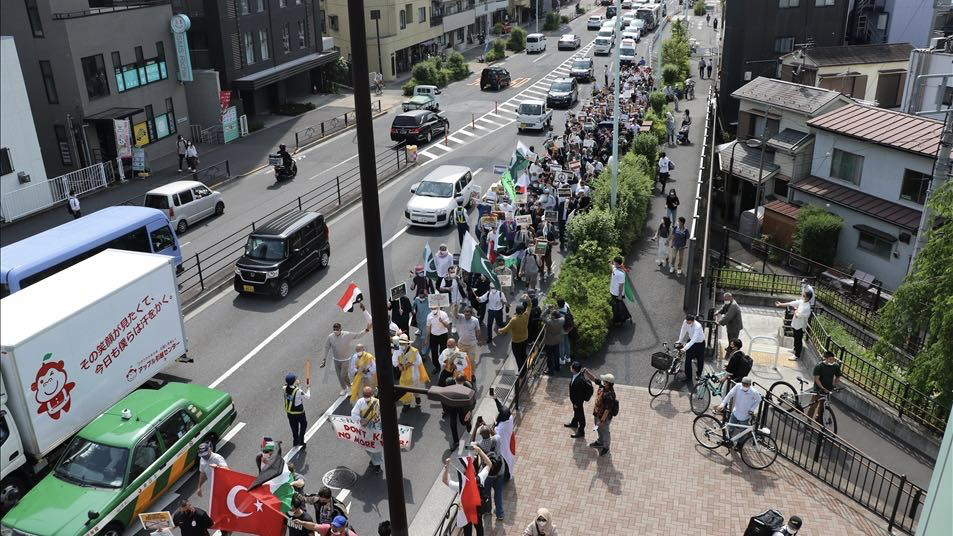 The moments of waiting for the pedestrian's green light felt very long, as I was trying to cross the street to the other side.
I soon joined the march and few steps down the way I hardly held back a couple of tears as I had mixed feelings of happiness to see the crowds, anger toward the atrocities, and frustration for being far away.
Seeing and marching with the masses of people from different backgrounds that only gathered for the fair cause of Palestine was a blessing, I was very glad that I can do something with more significant effect.


Muslims were strongly represented through Japanese nationals and residents from all over the world (Arabs, Pakistani, Bengalis, Turkish, Uzbek, Central and Southeast Asians, …etc.), joined by significant foreign supporters, and led by a group of public Japanese figures.
20 or 30 mins into the march, and I held the megaphone and started chanting in support of Palestine, the march lasted for about 2 hours, passing by the main streets of the capital Tokyo, including the infamous Shibuya district.
Press and journalists were taking photos, influencers were streaming live, and people in the streets were a bit surprised with such an unusual scene.

THE BUDDHIST MONKS, THE CHRISTIAN PROTESTANT FIGURE, AND THE OLD LADY
I made so many friends on the way, people that I met for the first time, I also was inspired by many of the activists and their spirit, but I was particularly astonished by some amazing Japanese activists that marched with us.
A group of Japanese Buddhist Monks was leading the parade, holding a sign that says: "Don't Kill! No More War!".
Right behind them, a prominent Japanese Christian Protestant figure was paradoxically holding a sign that says: "Al-Quds Is The Red Line of Muslims"! (Al-Quds Means Jerusalem) Shortly after during the march, he was given the megaphone and made a very passionate speech to condemn Israeli atrocities.
Old Japanese lady making a statement, (exclusive video by Author) Credit: Salah Aldin Falioun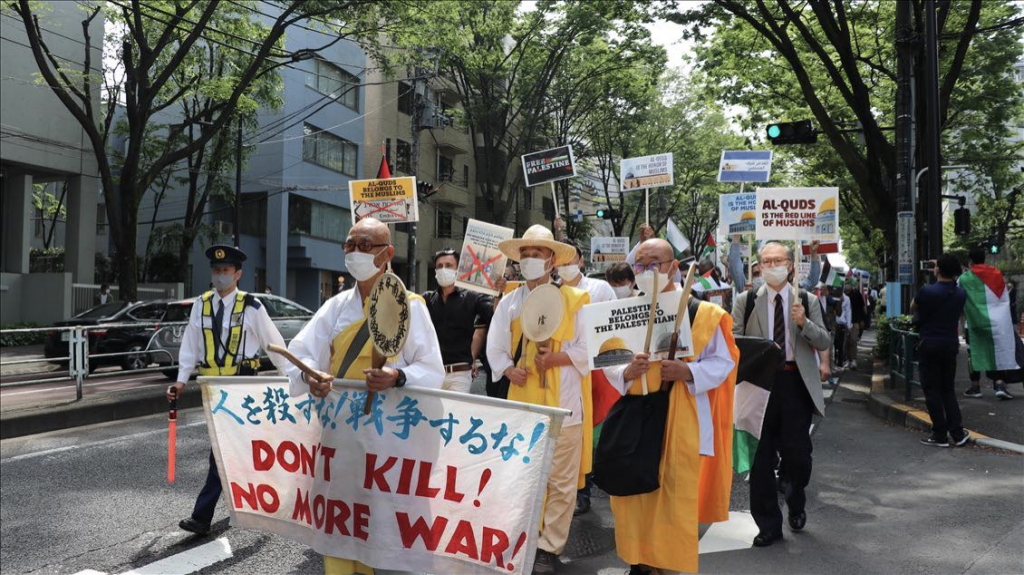 Very close to him, an old Japanese lady was holding a vertical sign with Japanese writings that I couldn't recognize, I estimated that she's definitely above 70 years of old, but that didn't stop her from being there and marching with us under the sun, she also made a speech in support of the humanitarian cause.

Eventually, we arrived at Yoyogi Park, near Yoyogi Event Plaza, Turkish Imam of Tokyo Camii asked us to stand in lines for "Janazah" prayer, and just back then I figured out the second mystery that I had had before. The "Janazah" prayers at the Mosque and Yoyogi Park were for our Muslim brothers and sisters that died in Palestine recently.
We made sure of social distancing, we prayed for them, then the Imam, a Japanese Muslim representative, The Japanese Christian figure, and the Buddhist monks made their statements to condemn the Israeli violations, and this officially concluded our event; but not the series of solidarity events.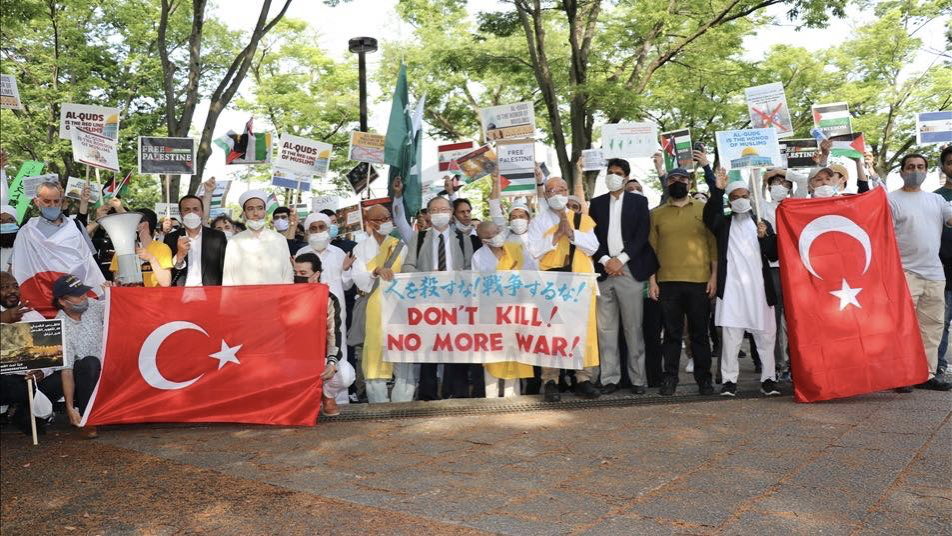 A STRONG RESPONSE TO JAPAN'S DEPUTY DEFENSE MINISTER'S PRO-ISRAELI COMMENTS
24 hrs later on May 15, and in response to controversial remarks by NAKAYAMA Yasuhide, Japan's Deputy Defense Minister, stating that Israel had the right to defend itself against terrorist attacks, around 100 demonstrators gathered to protest outside the Israeli Embassy and the Ministry of Defense.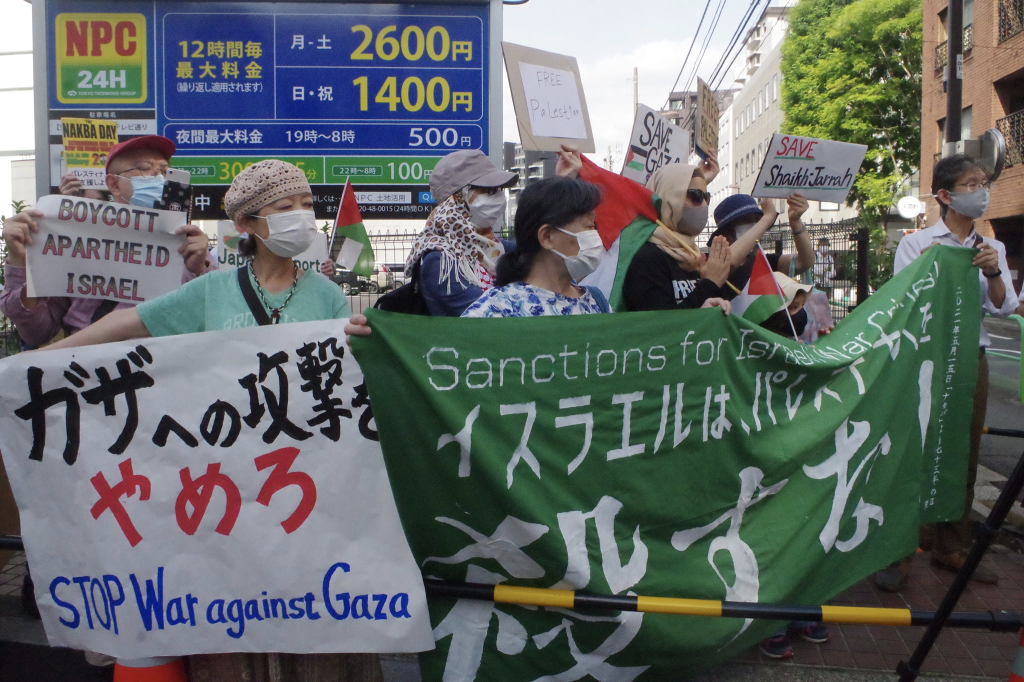 Pro-Palestinian protesters attempted to approach the Israeli Embassy but were stopped by a police roadblock about 100 meters from the official building. (Arab News, Japan)
This pressure led to a doubtful "voluntary" removal of the tweet by him later. (Arab News, Japan)
 
JAPAN'S FOREIGN PRESS CLUB CONDEMNS ISRAEL'S ATTACK ON MEDIA
On May 17, The Foreign Correspondents' Club of Japan (FCCJ) condemned Saturday's Israeli airstrike on a building in the Gaza Strip that housed offices of the Associated Press, Al-Jazeera, and other media organizations.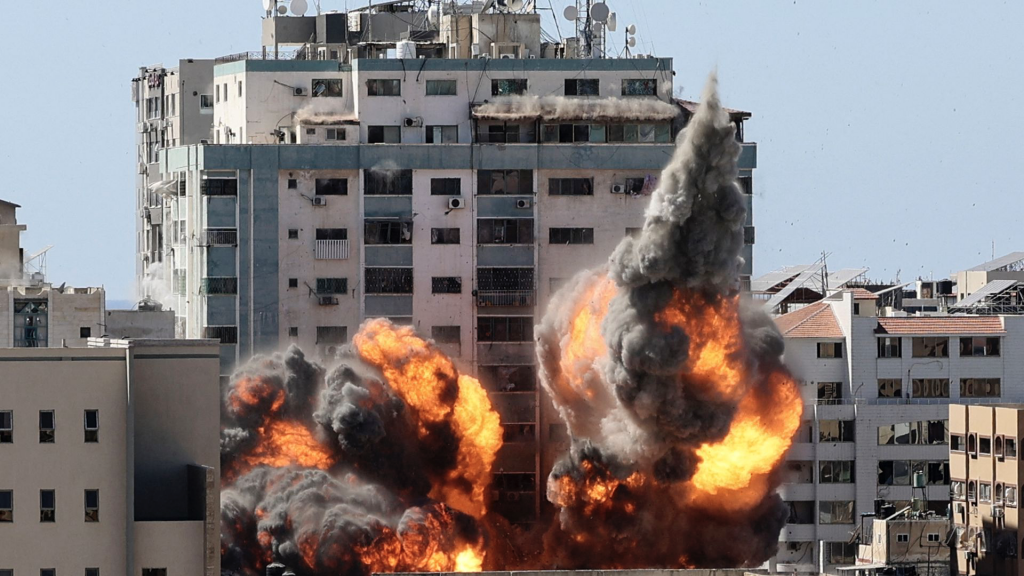 A CEASEFIRE WAS EVENTUALLY REACHED
A ceasefire went to effect between Hamas and Israel on May 20, everybody was glad that the bloodshed is on pause. Though this didn't stop activists from a pre-planned event in front of the Israeli Embassy in Japan the next day.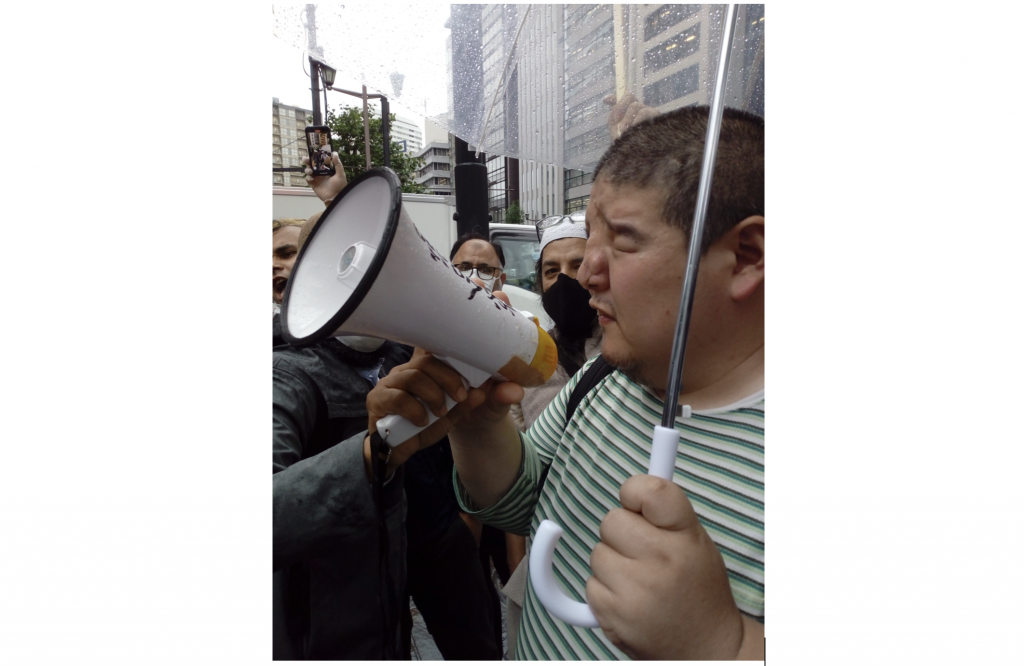 Overall, the message was very clear despite the ceasefire: People won't tolerate previous nor potential future Israeli atrocities against innocents in Palestine.
I will definitely reminisce these precious memories and special moments that I experienced so far away from my region, the Levant, especially the first marching event that surprised me in the darkest moments of frustration. It was the epitome of solidarity with a just humanitarian cause.
I will make sure also to revisit the iconic faces of passionate activists from all around the world, including the legendary Japanese men and women that walked with us down the long path of a free Palestine.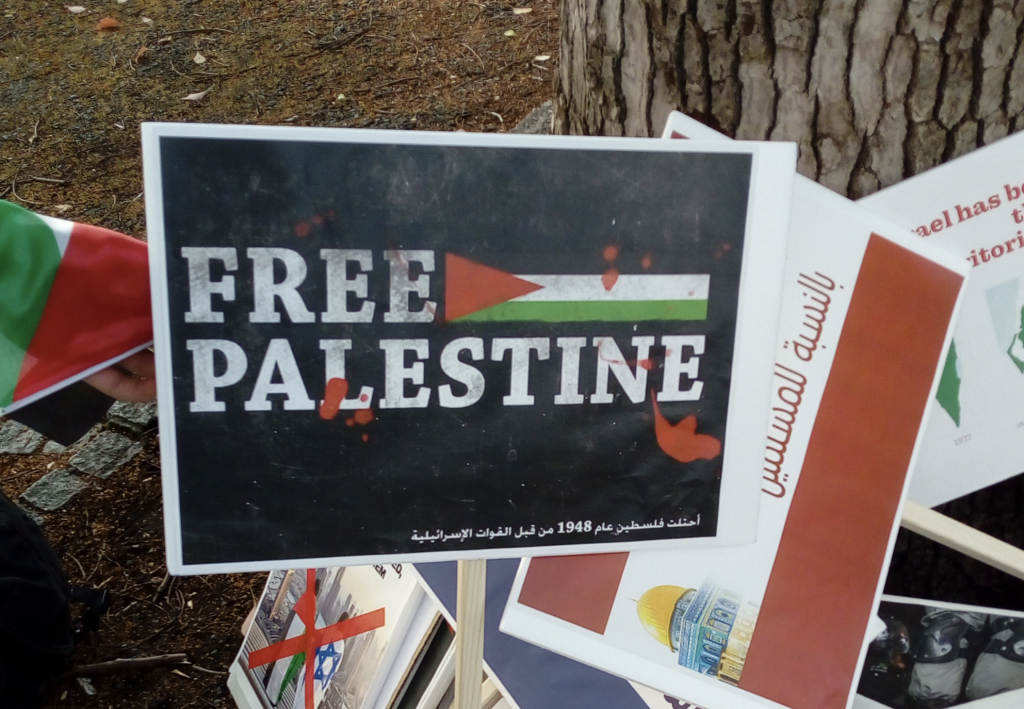 REFERENCES
Video timeline explains recent Israeli-Palestinian violence
Damascus Gate: The symbolic flashpoint of Jerusalem's latest tensions
Serious Escalation in Occupation and Settlers' Attack: 105 Injured, 50 Arrested, including 4 Children, in Largest Israeli Campaign in Occupied East Jerusalem – Palestinian Centre for Human Rights
Israeli forces withdraw from Jerusalem's Damascus Gate
Clashes escalate in Jerusalem between Palestinians and Israeli police | | AW
How Sheikh Jarrah became a flashpoint in latest Israeli-Palestinian conflict
Save Sheikh Jarrah: The online campaign giving hope to Palestinian refugees in East Jerusalem
Gaza death toll nears 200 amid surge of Israeli raids
Israel Bombing Gaza Apartment Buildings Could Be War Crime: Human Rights Groups
Japan Defense Official Backs Israel over Escalating Violence
Protests take place near Japan's Ministry of Defense and Israeli Embassy|Arab News Japan